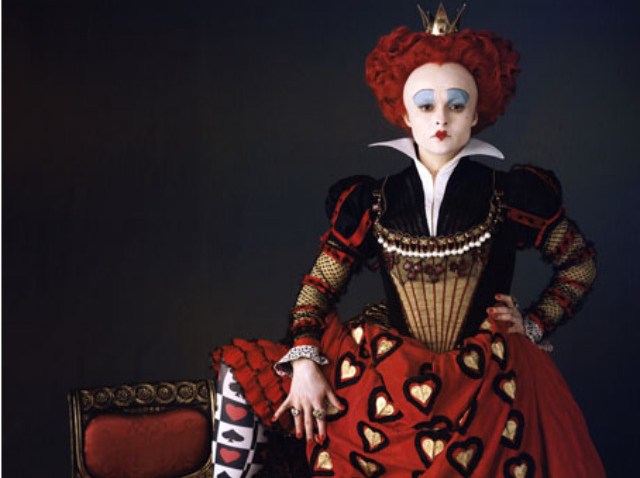 During one key scene in Tim Burton's fantastical "Alice in Wonderland" Johnny Depp's Mad Hatter is sent to his execution with his fellow enemy of the state, a mouse. The scene of Mad Hatter trudging to his apparent doom at the chopping block with the defiantly marching tiny mouse is great testament to the special effects artistry which permeates every scene in 2010's "Alice." It's seamless.
The fact that it's played with such solemn sincerity by their captors -- this tiny mouse prisoner is indeed a menace to the Red Queen's kingdom -- show that we are fully in the hands of quirk-meister Tim Burton. Then, in a rare moment, we are deprived of seeing what Burton's imagination might have wrought. The planned execution takes a sudden twist and we never see how he would have handled decapitation of a rodent (a relief surely for effects wizard Ken Ralston who already had his hands full).
But the point is made -- among generations of very strange rabbit holes, this one is a doozy. By comparison, Burton's creation makes past efforts such as Disney's previous animated 1951 classic effort look about as quirky as C-span budget talks.
U.S. & World
Stories that affect your life across the U.S. and around the world.
This is meant to be Alice's story, but the most fun in this Wonderland is checking out the fantastically rich scenery and the off-with-their-heads characters which Burton throws at us. Depp's Hatter naturally plays center stage with his often unintelligible mutters, his electrified hair and his insane laugh -- along with his sadness about not feeling the need to "funderwack" (his special kind of Happy Dance). But Helena Bonham Carter matches his quirkiness with a formidable forehead and eyes that perfectly mirror her use of evil to relieve her sheer boredom. Crispin Glover as the inappropriate henchman Stayne and Matt Lucas as the sole actor handing Tweedledee/Tweedledum also do their parts to make sure no odd stone is left unturned.
Mia Wasikowska leads Alice through the (sometimes too) bewildering sequences of adventures until she finally accepts her role as the Red Queen's destined arch-nemesis and takes her on in battle. Her fully-armored scene fighting the dreaded Jabberwocky lurches "Alice" into the realm of action films reminiscent of "The Golden Compass."
Oddly, it works.