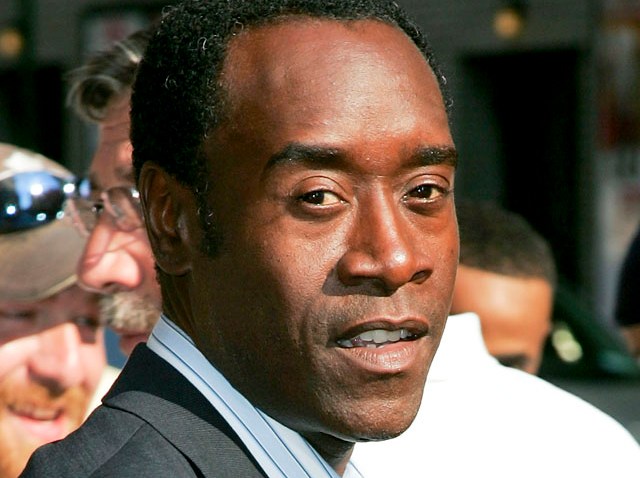 It appears Robert Downey Jr. is about to get a new sidekick.
Don Cheadle is replacing Terrence Howard in "Iron Man 2," according to The Hollywood Reporter.
[ VIEW THE PHOTOS: Scenes From 'Iron Man' ]
U.S. & World
Stories that affect your life across the U.S. and around the world.
In "Iron Man," the 2008 summer blockbuster from Marvel Studios, Howard played Jim Rhodes – friend and confidant to Tony Stark (Robert Downey Jr.). But now, Cheadle will replace Howard, who has reportedly had financial differences with the studio, among other reasons, The Hollywood Reporter claims.
When contacted by Access Hollywood, a rep for Paramount Studios (which distributed "Iron Man") would not confirm the casting change.
[ VIEW THE PHOTOS: Gwyneth Paltrow ]
Cheadle would step into the role of the military man Rhodes, who is also set to step into his own armored suit as fellow hero War Machine.
In a scene from "Iron Man," Howard sees the War Machine armored suit and utters the fan favorite line, "Next time baby."
During an interview to promote the first film, Howard sat down with Access Hollywood to talk about his role, the sequel and a possible spin-off for his character.
[ VIEW THE PHOTOS: 12 Movies For 2008 ]
"I've never been a part of a big budget film before. Knowing that I can now, like Gwyneth Paltrow, do ten independent films over the next five years, because guess what, perhaps I've got a three-picture deal," Howard told Access. "I've never had a three-picture deal, where I'm going to make 'X' amount of money in two years, and two years from that make 'X' amount of money and maybe have my own spin-off as War Machine."
Howard also said that "Iron Man" producers cast him as Rhodes before they had Downey pegged as the lead character, due in part to the vision the studio had for the Rhodes/War Machine character.
"It's not because Terrence Howard is such a great actor. It's because they had in mind a progression of where they wanted to go [with Rhodes]," Howard added. "I'm in a great position."
Related Content from AccessHollywood.com:
PLAY IT NOW: Terrence Howard Talks 'Iron Man' Sequel & Spin-Off (April 27, 2008)
PLAY IT NOW: Deleted 'Iron Man' Scene: Tony Stark Hits The Roulette Table

MORE ACCESS ON THESE TOPICS: Iron Man - Movies - Casting Call - TV One

Copyright NBCAH - Access Hollywood