The apparent tail of a dolphin washed up on the same stretch of New Jersey beach where a mauled bottlenose carcass was found over the weekend.
Alicia Anderer found the severed tail while walking with her kids near the surf of North Wildwood beach between 1st and 2nd Streets around noon Saturday. About three hours earlier, the front section of a 3-foot newborn bottlenose dolphin with large curved bite marks was discovered in the surf at the 4th Street beach, officials said.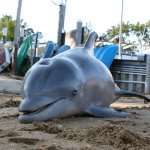 Bob Schoelkopf, founding director of the Brigantine-based Marine Mammal Stranding Center, said its impossible to tell if the tail was part of the dolphin carcass without analyzing the remains. The carcass was disposed of by lifeguards. Anderer isn't sure what happened to the tail.
The dolphin was most likely dead when it was bitten by a sand tiger shark, the expert said, noting that it's not uncommon behavior for sharks to feed on mammals in the waters off the Jersey Shore.
"Sharks are out there because they clean up the ocean. They're the garbage men of the ocean," he said.
A dead 30-foot-long fin whale was found off the coast last week and a number of sharks could been seen feeding on the mammal's underside, Schoelkopf said.
U.S. & World
Stories that affect your life across the U.S. and around the world.
Live dolphins aren't typically victims of shark attacks. They're usually too fast for the fish to catch, but Schoelkopf said it can happen.
"We've seen dolphins come into the surf zone and sharks come up and feed on them right there," he said. "It's something that people need to be aware of, especially life guards so that they can get people out of the water if that happens."
The stranding center has been cataloging shark bites on animals that come to them. Schoelkopf said they're able to determine what kind of shark chomped down on the animals and possibly whether the specific shark is known to them.
Schoelkopf said it's important that people call the stranding center when they make finds like the dolphin remains so they could be looked at by staff. The stranding center can be reached at 609-266-0538.