For Army National Guard veteran Bill Austin, his dog JP has been more than just a pet; he's an integral part in his struggle to cope with his PTSD. Austin, a Delaware native who currently lives in Montana, said JP even wakes him up when he's having nightmares about his past battles.

"He has been trained to help me remember to take my medicine," said Austin, who did tours in Bosnia, Iraq and Afghanistan.
JP was with Austin when his family visited Kathy's Crab House in Delaware City, Delaware, Friday. A diner at the restaurant reportedly went "crazy" over the service dog being allowed inside the eatery, according to R.J. Wisowaty, the owner of Kathy's Crab House.
Wisowaty posted a video on YouTube of the unidentified woman screaming at restaurant employees for letting the Great Dane, who was wearing a vest indicating it's a "PTSD service dog," inside. When the three-minute video begins recording, the woman is already upset about JP and in the middle of a diatribe against animals in restaurants.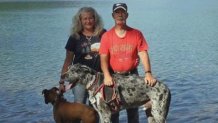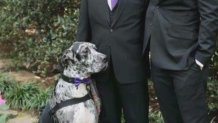 "I'm leaving because the food is nasty and there's a dog," the woman yells at restaurant employees in front of Austin and his family.
U.S. & World
Stories that affect your life across the U.S. and around the world.
When an off-camera employee informs the woman that the dog's owner is a military veteran who "fought for our country," she calls the point irrelevant and says the restaurant should have a separate section for service animals.
"My husband's dad did too. My husband's dad fought for the f------ country! So what? It's still nasty to me!" she screams, adding that "It should be a separate section for a f------ animal!"
[NATL] Top News Photos: Pope Visits Japan, and More
As the irate customer continues to complain about how "gross" it is for a dog to be inside, Austin attempts to calm the heated exchange by telling an employee to "stop it" and asks the woman to "calm down for 30 seconds." The woman also yells at others inside the restaurant, accusing them of starting the confrontation, before finally leaving with another man.
"Like I said, it's disgusting to have an animal inside of a public restaurant," she yells before exiting.
The video has been gaining worldwide attention.
"It's making people understand that 'you know what, this is not the way we should be treating each other,'" Austin said.
Service dogs are allowed to stay with their handlers inside restaurants under the Americans With Disabilities Act.
[NATL] Dramatic Photos: Hurricane Maria Slams Puerto Rico
Police are currently investigating the incident but won't release the woman's information unless they decide to charge her with a crime. Meanwhile, strangers from around the world have reached out to both Austin and the restaurant since the video was posted.
"People are calling from Australia. People are calling from all over the United States," said Kathy Wisowaty, the owner of Kathy's Crab House. "They support him. They want to buy him a meal. They want to buy the dog a meal."

In the aftermath of the woman's outburst, a sign was placed outside the restaurant. It reads, "Service Dogs Welcome."