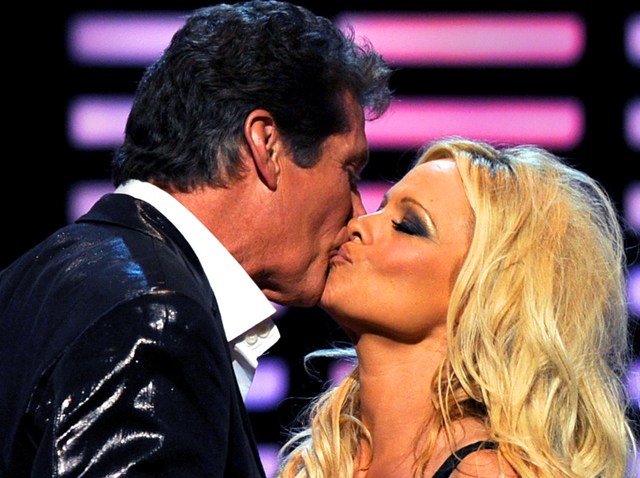 TV's favorite former lifeguard and inexplicably popular German pop star David Hasselhoff was roasted on Comedy Central, but everyone came out burned.
"How do you make jokes about a joke? How do you embarrass a man who so thoroughly embarrasses himself?" said Roast master and "Family Guy" creator, Seth MacFarlane. "How do you put someone down when they are already lying shirtless on the floor?"
Roaster Jeffrey Ross, pounded the "Knight Rider" over his excessive drinking, which gained him some unwelcome publicity several years ago after a video surfaced on YouTube of an inebriated Hasselhoff eating a cheeseburger off the ground.
U.S. & World
Stories that affect your life across the U.S. and around the world.
"I'm so relieved you're wearing a shirt tonight because it will be so much easier than picking the vomit out of your chest hair later," Ross said.
Hasselhoff's former "Baywatch" co-star Pam Anderson got in on the fun, mocking her friend's abilities as a thespian.
"I remember how nervous I was on my first day of 'Baywatch' - because I can't swim. But David was so sweet - he pulled me aside and said 'Don't worry, I can't act.'"
Though Hasselhoff took the bulk of the abuse, other presenters took some heat as well. Comedian Greg Giraldo ribbed presenter Hulk Hogan over his recent divorce.
"I can't imagine why your wife left you. You're an old man who dresses like a Hooters waitress," he said.
Despite the sharp barbs, Hasselhoff enjoyed the night because he's learned to take his past mistakes in stride.
"It's what keep us alive, it's absolutely the thing that makes you live a long and fantastic life and it's proven. It's fun to make fun of yourself, it's always fun to enjoy life and not to take things seriously. Tonight I'm sharing my fun, my life, my past. I'm honored to still be here and I'm honored to be able to laugh at myself," he said.
Selected Reading: Associated Content, Zap2it, Huffington Post