Police say they arrested comedian and actor Katt Williams just outside Atlanta after he threw a salt shaker at a restaurant manager.
East Point police Capt. Cliff Chandler says officers responded to a call of a fight at Spondivits restaurant a little after 10 p.m. Wednesday. Chandler says the restaurant manager had a bloody cut on his lip. The manager and other witnesses told officers Williams had thrown the salt shaker at him.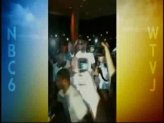 Officers found Williams at a nearby Waffle House restaurant and arrested him.
He faces a battery charge and bonded out of the East Point jail around 12:30 a.m. Thursday.
Drew Findling, an attorney for Williams, said he plans to interview witnesses and do his own investigation.
This is the third arrest for Williams in 2016. [[25991739, C]]
Copyright AP - Associated Press