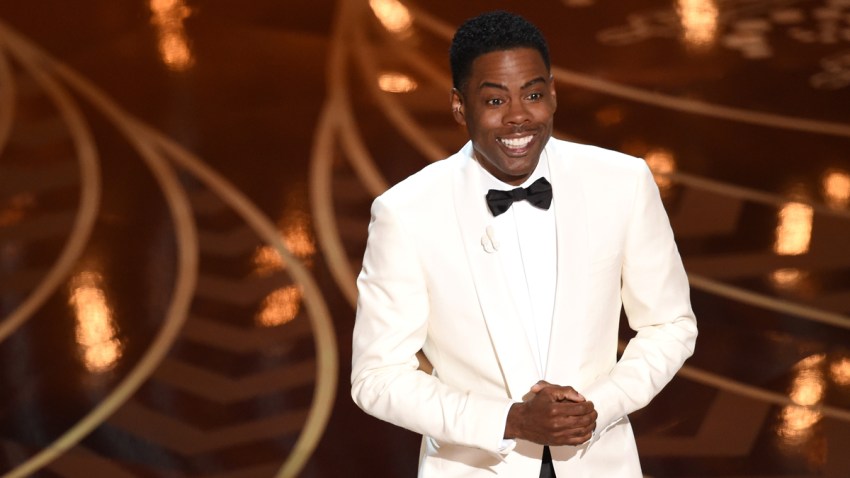 Chris Rock, clad in a James Bond-like black-and-white tuxedo, came dressed to kill and with a license to kill Sunday night at the Oscars - or, as he called it, "The White People's Choice Awards."
Rock took dead aim at Hollywood's diversity disaster with what amounted to timely and electrifying anti-acceptance speech. The stand-up master, in brash, defiant and often hilarious opening monologue, showed he and movie fans aren't going to stand for Academy of Motion Picture Arts and Science's failure to nominate any actors of color for the second straight year.
He grabbed the spotlight and used it to roast his employers for the night, outright declaring Hollywood racist - even if it's not "burning-cross racist" - and calling for more opportunities for people of color.
U.S. & World
Stories that affect your life across the U.S. and around the world.
Still, he skewered without skimping on the laughs, sticking it to Hollywood while sticking to his style: smart, common sense observational humor delivered with semi-amused, semi-outraged disbelief.
"You realize, if they nominated hosts, I wouldn't even get this job," Rock cracked.
The opening set the tone for an ABC Oscars broadcast whose lead-up was dogged by pre-show controversy unprecedented in the awards gala's 87-year history. Some major figures - including honorary Oscar winner Spike Lee, past nominee Will Smith and Jada Pinkett Smith - notched headlines by announcing they would skip the ceremony.
They didn't escape Rock's sights, especially Pinkett Smith, who, he noted, is best known for her TV work. "Jada boycotting the Oscars is like me boycotting Rihanna's panties - I wasn't invited," he quipped.
Rock agreed it wasn't fair that her husband, "Concussion" star Will Smith, didn't get nominated. "It's also not fair that Will was paid $20 million for 'Wild Wild West,'" Rock said.
The comedian put his quest for perspective in far starker terms as he mulled reasons why the Oscars' long history of virtually ignoring black performers didn't generate near as much outrage in decades past.
"Why? Because we had real things to protest at the time. We were too busy being raped and lynched to care about who won Best Cinematographer," he said. "When your grandmother's swinging from a tree, it's really hard to care about Best Documentary Foreign Short."
But Rock delivered a caustic reminder that times haven't changed enough: "This year in the in-memoriam package, it's just going to be black people that were shot by the cops on their way to the movies."
He also got serious when talking about being one of about four African Americans at Hollywood fundraiser for President Obama. "I'm like, 'Mr. President, you see all these writers, producers and actors? They don't hire black people - and they're the nicest white people on Earth. They're liberals.'"
The lack-of-diversity theme played out beyond the Dolby Theatre stage, via some amusing filmed bits, including one in which black performers were inserted into some 2015 movies. Past Oscar winner Whoopi Goldberg pushed a mop in "Joy," while Tracy Morgan donned a dress to take on the title role in "The Danish Girl." Leslie Jones mauled Leonardo DiCaprio in "The Revenant" and Rock portrayed an astronaut NASA wouldn't pay to bring home in "The Martian."
Past Oscar nominee Angela Bassett deadpanned her way through a Black History Month salute to Jack Black. Rock, reviving a segment he did during first Oscars stint in 2005, went to a theater and talked to movie fans straight out of Compton. "Where are you getting these movies from?" replied one woman after Rock asked whether she had seen Best Picture nominees "Spotlight," "Brooklyn" and "Bridge of Spies."
Judging from the reaction of the star-filled audience at the Dolby Theatre, the predominantly white group largely appeared to appreciate Rock's performance - a far cry from 11 years ago, when his jokes painting Tobey Maguire and Jude Law as big-screen lightweights offended some well-paid thespians.
The stakes were clearly much higher this time around - for Rock and for Hollywood.
Unlike the Academy, Chris Rock came through Sunday night. He put on a show that Oscar viewers - and voters - won't soon forget. Even as the laughter fades, the message appeared poised to resonate.
Jere Hester is Director of News Products and Projects at the City University of New York Graduate School of Journalism. He is also the author of "Raising a Beatle Baby: How John, Paul, George and Ringo Helped us Come Together as a Family." Follow him on Twitter.