When Keith Davis pulled his truck out of the garage of his stately Chester County, Pennsylvania, home one June morning in 2015, ready to take his two young boys to summer camp, an ugly message loomed in his rearview mirror, and everything changed.

"Get out F--S!" was scrawled in red paint across his prim beige garage doors and it was clear: The legal battle with neighbors in which Davis and his partner, David Ruth, had been embroiled for a few months — which they believed was over a 6-foot high fence around their yard that their neighbors didn't like — had little to do with the fence.

"We couldn't believe it," Davis, 36, recalled, adding that the responding officer from New Garden Police Department was also floored by the message of hate.

"I put the garage doors up" so the kids wouldn't see it, Davis said. "Thank God I saw it and was able to."
Davis and Ruth's home, tucked so deep in the rolling hills of bucolic Avondale that it's not even visible from the road, should have been a safe haven for the couple and their boys, who are Ruth's nephews but were placed in the couple's custody after social services removed them from their parents' care.
But, the pair said, they found only discrimination and hate. First, they said, in the form of the frivolous lawsuit, and later during a months-long campaign of repeated vandalism to their home that included someone using the cover of night to scrawl the slur onto their garage, breaking their security sensors on numerous occasions and twice taking a hacksaw to the white fence that supposedly sparked it all.
Innocuous as the dispute seemed in the beginning, Davis and Ruth said they were slow to make any snap judgments of their new neighbors.

"We didn't want to jump to that conclusion, but it definitely felt over the top," said Ruth, 30, as he and Davis sat on the sofa in the couple's living room on a gray Saturday morning. "How can you be this upset about a fence you can barely see? Something felt off."
In the wake of the hate-vandalism, the couple said they felt unsafe enough that they packed up the boys and left for a summer-long cross-country road trip to escape the home they had just built together. Any question of whether the suit really was about neighborhood aesthetics disappeared when they found the slur scribbled on their home, Davis and Ruth said.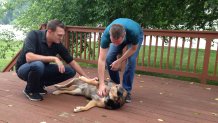 Last month, a Chester County judge who heard the neighbors' case against Ruth and Davis saw it the same way.

After hearing a day of testimony, Judge Jeffrey R. Sommer ruled in favor of Davis and Ruth, saying they can keep their fence and also install a pool they'd previously been denied by a committee of residents in their sprawling 26-house development. Sommer wrote that the committee appeared to selectively enforce the rules when convenient for its members, denying Ruth and Davis things that other houses in the neighborhood had, including their fence.

Sommer took his decision a step further, including in it some scathing remarks about Davis and Ruth's neighbors hiding behind the fence as an excuse to discriminate against the same-sex couple.
"This case is not at all about a fence," Sommer wrote.

"There is no doubt that once Mr. Davis' sexual orientation was discovered, the tenor of the neighborhood interactions changed," the judge continued later in the decision, also referencing that one neighbor and plaintiff in the suit, Ryan Carpenter, "acknowledged that he would yell 'other things' which included homophobic slurs" from outside his home toward Davis and Ruth's house.
Despite the judge's ruling, though, Frank Charlton, another of the neighbors who filed the suit, denied that the case had anything at all to do with homophobia.
U.S. & World
Stories that affect your life across the U.S. and around the world.
"Most of my neighbors who were involved or weren't involved are just disgusted with the way this evolved into a homophobic thing," said Charlton, an original homeowner in the development who moved there in 1999. "It is about a fence. It was about a fence."

Neither Carpenter nor Scott Bonne, the other plaintiff named in the suit as an original filer, could be reached for comment. L. Theodore Hoppe Jr., who represented the plaintiffs, did not return requests for comment.

Charlton dismissed the slur graffitied onto Davis and Ruth's garage as unrelated to the dispute among the neighbors. New Garden police investigated the vandalism but never figured out who was responsible.
Davis said he found it an odd coincidence that it occurred in the middle of the night right after he and Ruth received a note in the mail from the development's committee saying the couple needed to turn off their outdoor security lights because they were causing a glare on other homes. There are no street lights in the development.
"Nobody's homophobic. I have a home in Rehoboth," Charlton said. "No one is homophobic here. It's simply and truly about a fence."

But Davis and Ruth don't see it that way. They said they felt targeted and bullied by the five neighbors who joined the lawsuit, who happen to live in all of the houses surrounding their property but one. They said the yearlong legal battle that ensued cost them everything, delaying their wedding and their legal adoption of their boys and putting them at risk of losing the home they fought so hard to keep anyway.
Davis owns a company that installs electronic medical records systems. He said that because he's had to be home to handle problems stemming from the lawsuit and repeated vandalism, his business has lost some of its biggest clients, costing him income.

Davis and Ruth are also swimming in legal fees they say have reached nearly $80,000 after the court battle. They've filed a motion for legal fees with the court, Davis said, but their attorney warned them it's a long shot they'll recoup any of the money.
Before everything, Davis and Ruth had planned to marry this year, and to legally finalize the adoption of their sons. Ruth said the kids were removed from his brother's home and placed in his and Davis' care about five years ago.
"The whole plan was to get a better house with room for us and the kids, and then be able to get married and finalize the adoption, and it held up all of that, which is heartbreaking," Ruth said softly as he stood outside the house on a path that runs through a garden of lush flowers and shrubs.
"This has definitely put a halt on everything that was supposed to happen this year," Davis said.
Neither of the men had experienced overt homophobia before — not like this, they said, adding that they were stunned to find it in their quaint suburban enclave, where they said many of the families are young.

For now, Davis and Ruth are trying to move on and doing their best to keep their family afloat up against what they said is a massive financial burden left behind by the lawsuit. They said they're afraid the neighbors will appeal, costing them even more money they don't have.
"Our life savings is gone," Davis said quietly as he sat on the couch, next to a pile of legal paperwork the case generated, stacked as high as his elbows.
The couple started a GoFundMe page in hopes of getting back some of the money they lost fighting the lawsuit, but said they had to take it down for a short period of time while the legal proceedings were ongoing. It's back now but has only raised about $6,700 toward its $77,000 goal.

Charlton, who said he joined the suit "as a historical witness of the neighborhood," insisted the suit was about nothing other than the aesthetics of the fence, and that he and other neighbors are upset it's been made out to be something more, both by Ruth and Davis and in court.

"It's not about that. I can't say that enough," he said.

He added that the neighbors just want to put the battle behind them.
"I don't think we're all ready to have wine out on the back patio yet, but time heals a lot of wounds," he said.
---
To learn more about Keith Davis and David Ruth's story or to help, visit their GoFundMe page here.