Two prep school graduates who prosecutors say had their sights set on running the drug trade on suburban Philadelphia's Main Line have been arrested along with so-called "sub-dealers" for allegedly selling illicit substances in high schools and colleges.
Montgomery County District Attorney Risa Ferman announced on Monday the arrests of Neil Scott and Timothy Brooks and detailed their alleged operation called the "Main Line Take Over Project."
Scott, 25, and Brooks, 18, employed "sub-dealers" at five Main Line high schools and three area colleges who would sell marijuana, hash oil, cocaine and MDMA, a drug commonly known as Ecstasy, Ferman said. Authorities confiscated drugs, cash and guns in a sweep related to the operation, which officials said had been running for the past couple of months, officials said.
U.S. & World
Stories that affect your life across the U.S. and around the world.
"This was not a game. These people were in business, they were in business to make money and they were going to do whatever they needed to do so that no one threatened their business," Ferman said.
The schools involved were the private Haverford School and public high schools Lower Merion High School and Harriton High School in Lower Merion Township, Pa., Conestoga High School in Tredyffrin Twp., Pa., Radnor High School in Radnor, Pa., as well as Gettysburg, Lafayette and Haverford colleges.
Ferman said both men, who are graduates of the prestigious all-boys preparatory school The Haverford School, worked together to "create a [drug] monopoly to high school students in the area." Both men played lacrosse at the swanky Montgomery County private school and coached youth sports leagues, according to Ferman. The DA said Brooks and Scott exploited those relationships to help grow the criminal enterprise.
According to a 100-page criminal complaint obtained by NBC10.com, Scott received bulk shipments of marijuana from California to his apartment in Haverford, Pa. Drugs would also be sent to his parent's home in Paoli and Brooks' home in Villanova, according to the complaint.
Authorities said Scott worked, at one time, at a legal marijuana dispensary in California and used those connections to garner his supply.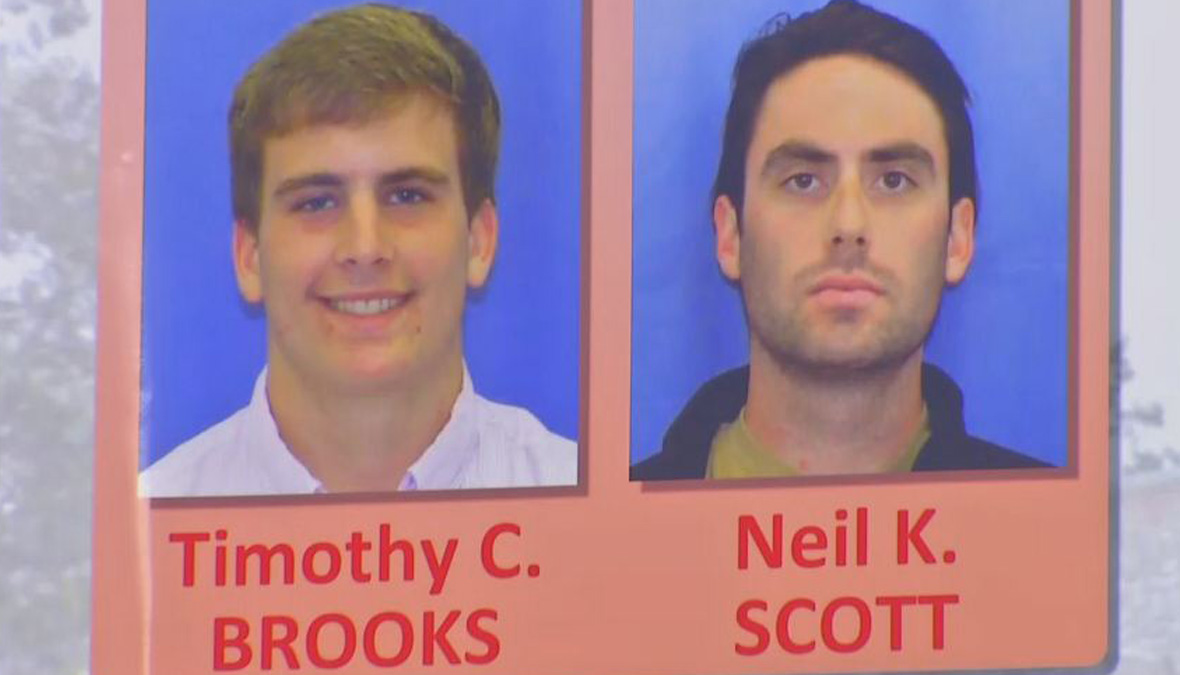 Through text messages obtained during the investigation, prosecutors said they learned Scott and Brooks ran the ring like a legitimate business. Scott allegedly coached Brooks, who would in turn supervise the "sub-dealers" inside the high schools.
"The high school sub-dealers were encouraged to develop their business so that they could sell at least one pound of marijuana each week," Ferman said. "Brooks instructed the dealers to make sure that there was never a drought."
John Nagl, headmaster for The Haverford School, said school officials were notified about an on-going investigation several weeks ago, but were asked not to interfere.
"We focus on developing boys with good character, despite our best efforts, sometimes boys make bad choices," he said. "This was destructive and horrible. And we are deeply saddened."
Nagle said the school, which teaches 1,000 boys in a lower, middle and upper school, does not comment on current or former students. He said he did not know how many students may have purchased drugs through the ring.
"The school is cooperating with the law enforcement investigation," he said.
Spokespersons for the Lower Merion, Radnor and Tredyffrin/Easttown school districts said officials have been made aware of the allegations and that the safety of students is most important. All said they were unaware of the investigation, but will cooperate if asked.
Gettysburg College is conducting an internal investigation, a spokesman for that college said.
NBC10.com also reached out to the other schools involved in the case, but so far we have not heard back.
Ferman said investigators learned about the "Main Line Take Over Project" through confidential informants and conducted a one-day round-up in February. In that operation, prosecutors said they confiscated 8 lbs. of marijuana, 3 grams of hash oil, 23 grams of cocaine, 11 grams of Ecstasy, $11,000 in cash, a loaded handgun, an AR-15 assault rifle and AR-15 style rifle. Most of the contraband came from Scott's Haverford apartment, authorities said.
In addition to Scott and Brooks, seven alleged "sub-dealers" were also charged. They are: Daniel McGrath, 18, a student at The Haverford School; John Rosemann, 20, a student at Lafayette College; Christian Euler, 23, a graduate of The Haverford School and student at Lafayette College; Garrett Johnson, 18, a student at Haverford College; Reid Cohen, 18, a Haverford College student; Willow Orr, 22; Domenic Curcio, 29.
Two juveniles, a 17-year-old Radnor High School student and 17-year-old Lower Merion High School student, have also been petitioned by the DA's office.
Scott, who is being held on $1 million bail, covered his face and shouted expletives at reporters attempting to get comment following his arraignment on Monday afternoon. His attorney declined comment saying he had just gotten the case.
Brook's attorney said the teen "lost his way" and is remorseful. His parents posted the $25,000 bail to release him from jail.
---
Contact Vince Lattanzio at 610.668.5532, vince.lattanzio@nbcuni.com or follow @VinceLattanzio on Twitter.