What to Know
Police say a car crashed into the second floor of a New Jersey business, killing two people
Toms River police say the red Porsche hit the building at about 6:30 a.m. Sunday and lodged into the second story
Sgt. Vincent Padalino says the building, which is across from Hooper Avenue Elementary School, was unoccupied at the time
Police say a car crashed into the second floor of a New Jersey business, killing its two occupants.
Toms River police say the red 2010 Porsche Boxster hit the building at about 6:30 a.m. Sunday and lodged into the second story.
The car was speeding north on Hooper Avenue, near Indian Hill, when its driver Braden DeMartin, 22, of Toms River, lost control and hit the center median, according to police. Skid marks blacken the roadway about 100 feet from where the car landed.
The car went airborne and crashed into a building, police said. Both DeMartin and passenger Daniel Foley, 23, of Toms River, were pronounced dead at the scene.
"I didn't think that would actually happened to Braden," Kristen Aguiar, DeMartin's girlfriend, told NBC10 while in tears. "I saw the post on Facebook with the car through the thing and it said a Porsche and it said red and I knew it was him and I called him nine times."
Aguiar, who called DeMartin the kindest person she'd ever met, told NBC10 he had gotten the Porsche as a gift after graduating college earlier this year.
U.S. & World
Stories that affect your life across the U.S. and around the world.
"He loved his Porsche," she said. "Just, this time, he got unlucky."
Sgt. Vincent Padalino says the building, which is across from Hooper Avenue Elementary School, was unoccupied at the time. It had been deemed unsafe by a building inspector, according to police.
By nightfall, crews had covered the building with a tarp while the police investigation continued its focus on the vehicle's speed at the time of the crash.
"He drove that car around like an a--hole all the time," Aguiar said. "He needed to just not be an a--hole just a little bit that night."
Padalino says the building houses four businesses, including a counseling service and a real estate company. Foley's longtime friend, Jacob Palecki, left flowers at the building on Monday.
"It'll make headlines that that was the second story and how did this happen but I'm more worried about how did it happen that we lost two really, really good members of this community," Palecki said.
Police and the Ocean County prosecutor's office are investigating.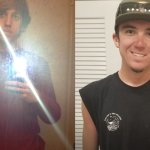 Copyright A