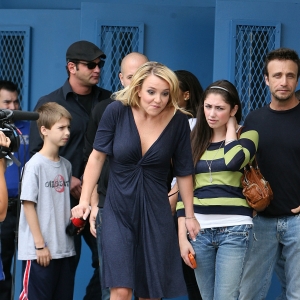 The last time we saw Britney Spears in a school hallway she was dancing in her infamous plaid skirt and singing "Baby One More Time" — this time she was handing out $10,000 checks.

The students at John Philip Sousa M. S. 142 in the Bronx received quite a surprise Wednesday when the pop star stopped by the school and presented an endowment for the school's new music program from Elizabeth Arden, the company behind her three fragrances, Believe, Fantasy and Curious, People reports.

[ VIEW THE PHOTOS: Britney Spears ]
U.S. & World
Stories that affect your life across the U.S. and around the world.
Britney, who earlier in the week caused a frenzy on the streets of New York City as fans and photographers swarmed her, did not disrupt classes, as school was not in session due the Jewish holiday.
(CLICK HERE to listen to Adnan talk about Britney's rumored sex tape with Ryan Seacrest on KIIS-FM)
[ VIEW THE PHOTOS: Hollywood Blondes ]
The school's eight-piece band, the Sousatones, gave Britney a taste of what her donation will help fund, with a rousing performance.

Following the Sousatones show, band director Sal Mazzola, told the pop star, "When you're ready to take us on the road for an opening act, we're ready!"

"You'll be the first people I call," Britney replied (the pop star plans to tour in 2009).

[ VIEW THE PHOTOS: Hollywood Moms ]
The band wasn't the only one showing Britney their musical chops. A seven-girl chorus sang for Britney too, which included 14-year-old Rachel Lewis, who sang "I Am Woman."

The band director told his students in advance a "high-profile" guest would be stopping by the school but they only found out it was going to Britney that morning.

Some of the students reportedly thought it was going to Barack Obama or Diddy showing up.

Related Content from AccessHollywood.com:
PLAY IT NOW: AUDIO: Adnan Clears The Air About The Britney Spears Sex Tape
PLAY IT NOW: AUDIO: Britney Spears - 'Womanizer'

MORE ACCESS ON THESE TOPICS: Britney Spears - Music - News - Celebrities - Charities

Copyright NBCAH - Access Hollywood