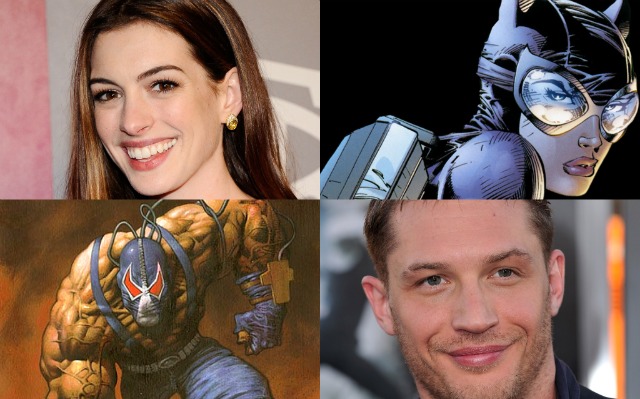 It's Catwoman and Bane.
Yes, after months of speculation and casting rumors, we finally have our "Dark Knight Rises" villains. after riding an actress merry-go-round alongside the likes of Jessica Biel, Keira Knightley, and Eva Green, Anne Hathaway has nabbed the gig as Selina Kyle aka Catwoman.
And Tom Hardy - who recently starred in Christopher Nolan's "Inception" and who has been rumored to be playing everyone from Hugo Strange to Killer Croc in the new Batman sequel - is actually stepping into the role of muscle-bound menace Bane.
U.S. & World
Stories that affect your life across the U.S. and around the world.
Like "The Dark Knight's" Joker, this isn't the first cinematic treatment of either Bane or Catwoman. The feline temptress ha previously been portrayed successfully by Michelle Pfeiffer in Tim Burton's "Batman Returns" and disastrously by Halle Berry in a "Catwoman" solo film. Bane, meanwhile, had the dishonor of appearing alongside Poison Ivy and Mr. Freeze in the putrid "Batman and Robin" - the movie that killed the Bat-franchise until Nolan breathed new life into it.
In the official announcement, from Warner Bros., Nolan states, "I am thrilled to have the opportunity to work with Anne Hathaway, who will be a fantastic addition to our ensemble as we complete our story." He goes on to praise Hardy as well, saying, "I am delighted to be working with Tom again and excited to watch him bring to life our new interpretation of one of Batman's most formidable enemies."
Fans will note two significant things in Nolan's quotes. First, he once again confirms that this will be his last Batman outing ("complete our story") and second, he suggests that Bane will be something slightly different than the Lucha Libre-masked juggernaut who once snapped Batman's spinal cord in two over his knee in the comics.
As for Kyle/Catwoman, she's been everything from a straight villain to a love interest to a sometime ally of Batman, so there is plenty of wiggle room for Nolan and writers Jonathan Nolan and David S. Goyer. Expect a lot of cat jokes during this year's Oscar ceremony, as Hathaway has been tapped to co-host alongside James Franco.
"The Dark Knight Rises" is set to be released on July 20, 2012.