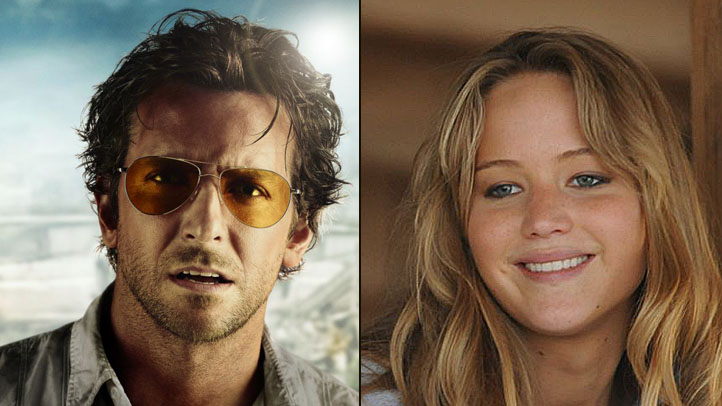 We always take it as a good sign when stars of an upcoming film sign on to do another film together before the first one is even released. And so it is with great relief that we learn that "Silver Living Playbook" co-stars Bradley Cooper and Jennifer Lawrence are already committed to a reunion.
Cooper and Lawrence will star in an adaptation of Ron Rash's "Serena," reported Vulture, a Depression Era tale of infidelity and revenge set in North Carolina timber country. Here's the official synopsis:
The year is 1929, and newlyweds George and Serena Pemberton arrive from Boston in the North Carolina mountains to create a timber empire. Although George has already lived in the camp long enough to father an illegitimate child, Serena is new to the mountains—but she soon shows herself the equal of any worker, overseeing crews, hunting rattlesnakes, even saving her husband's life in the wilderness.

Together, this Lord and Lady Macbeth of the woodlands ruthlessly kill or vanquish all who fall out of favor. Yet when Serena learns that she will never bear a child, she vengefully sets out to kill the son George had without her. Mother and child begin a struggle for their lives, and when Serena suspects George is protecting his illegitimate family, the Pemberton's intense, passionate marriage starts to unravel as the story moves toward its shocking reckoning.
U.S. & World
Stories that affect your life across the U.S. and around the world.
Sounds great--we do have one concern, however, as Susanne Bier has been slated to direct. Bier won Best Foreign Film at last year's Oscar's with "In a Better World," a film that posed philosophical questions that we found hopeless misguided. But she can tell a story, and teased a couple of brilliant performances out of hr cast, so there's hope. And, hell, she did win an Oscar--what do we know?
Cooper and Lawrence's first collaboration, "The Silver Lining Playbook," about a man coming off a four-year stay in a mental institution intent on winning back his wife, opens Nov. 21.