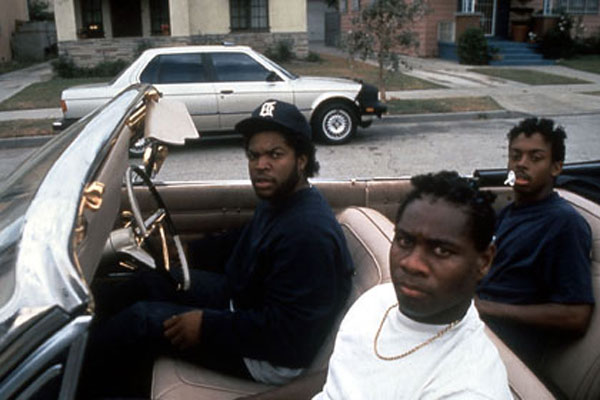 The opening street-scene image of screenwriter and director John Singleton's 1991 "Boyz 'n the Hood" still packs its intended punch: a bullet-ridden stop sign.

The stark first shot marked a sign of the times when the film debuted 25 years ago Tuesday. The same could be said for now as the silver anniversary arrives amid a summer of turmoil that needs to come to a screeching halt.

"Boyz 'n the Hood," which strikes clear notes of caution and optimism amid the constant clatter of police helicopters circling above, represented a cinematic declaration that black lives matter, long before those words became a rallying cry of this decade.

Singleton unflinchingly tackles big-picture, concentric vicious circles: over-incarceration, police brutality, drugs, poverty and black-on-black violence. Yet the film's power derives from its tight-focus core – the linked fates of young friends in hardscrabble South Central Los Angeles from the mid 1980s to the early 1990s.
"Boyz 'n the Hood" brims with unforgettable characters, played by top-notch actors, some in star-making roles: Cuba Gooding, Jr., as Tre Styles, a smart, restless youngster sent by his young striver mother (Angela Bassett) to live with his father to learn the real meaning of manhood.
There's Laurence Fishburne as Tre's dad, Furious Styles, a fiercely intelligent and proud man who can see the bigger picture of destructive cycles – and is determined to steer his equally strong-minded son onto the right path, via tough love. There's Ricky (Morris Chestnut), Tre's best friend, who is working hard on the gridiron to earn a college football scholarship and support his own son.
U.S. & World
Stories that affect your life across the U.S. and around the world.
But it's Ricky's half-brother, gun-toting drug dealer Doughboy (Ice Cube, also a contributor to the film's soundtrack), who emerges as the most fascinating and complex figure. He's both resentful and protective of Ricky, the apple of their mother's eye to his bad seed. Yet Doughboy is set on the wrong track after being locked up as a grade-schooler for mere shoplifting.
Memorable characters fuel indelible moments – with none as jarring as when police pull over Tre and Ricky, just as they're getting ready to graduate high school and escape their neighborhood. A sadistic black cop from Tre's childhood returns to put a gun to the teen's neck simply for the pleasure of seeing him quake with fear.
Fear emerged as the strongest of the gamut of emotions – frustration, heartbreak, anger and a glimmer of hope, among them – that courses through "Boyz 'n the Hood" straight to our troubled present. The most frightening takeaway is the role of chance plays in nudging young lives over the thin line between survival and becoming a statistic – even when, to paraphrase another seminal movie of the era, you do the right thing.
The message, like the film, hasn't aged. As Singleton told an audience in New York last month during an anniversary screening: "I'm hoping that the #BlackLivesMatter thing is not a fad because black lives have always mattered." (via Filmmaker Magazine)
A quarter-century later, "Boyz 'n the Hood," remains must-viewing – or re-viewing: From the opening stop sign to the bloody, bittersweet conclusion, the landmark film tells a compelling, seemingly never-ending story.
Jere Hester is Director of News Products and Projects at the City University of New York Graduate School of Journalism. He is also the author of "Raising a Beatle Baby: How John, Paul, George and Ringo Helped us Come Together as a Family." Follow him on Twitter.
Copyright FREEL - NBC Local Media