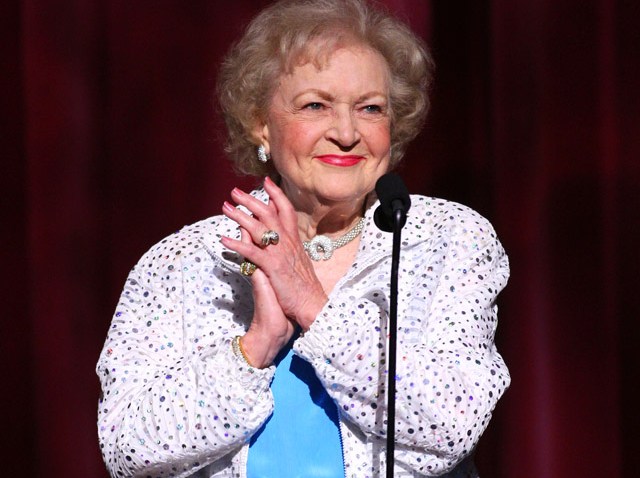 The "30 Rock" guest star list is about to get a little more "Golden."


"We're shooting a bit tomorrow with Betty White, so that's good!" series creator and star Tina Fey told Access Hollywood's Nancy O'Dell after winning the Emmy for best comedy series.


VIEW THE PHOTOS: Emmys 2009: The After Parties!

"What is she going to be playing?" Nancy asked.


"She's playing herself," Tin revealed.


VIEW THE PHOTOS: Small Screen, Big Fashion! Emmy Awards Red Carpet 2009

Alec Baldwin, who took home the trophy for best lead actor in a comedy series, said Betty was the cast's first choice when it came to who should guest star.


"We all put names in a hat, and we took a vote, if you could have one guest star for the whole season, who would it be?" Alec explained. "And Betty White was the winner!"


And Tina Fey also has her eye on music's golden boy — Justin Timberlake.


VIEW THE PHOTOS: Emmys 2009: Rocking Radiant Red On The Red Carpet

"We should track him down. He'd be good." Tina said. "I'm sure he'd totally do it — he's not busy."

And it appears news of a possible Justin appearance traveled fast at Sunday's Emmys.

"Okay, you know what's funny?" Justin told Nancy backstage. "The writers just walked through when I was heading back from the from taking photos, and one of the writers said, 'Hey Justin, we gotta get you on 30 Rock.'"

Related Content from AccessHollywood.com:
PLAY IT NOW: Emmys 2009: Will Justin Timberlake Guest Star On '30 Rock'?
PLAY IT NOW: 2009 Emmys Red Carpet: Have Tina Fey & Jack McBrayer Won Too Many Emmys Already?
MORE ACCESS ON THESE TOPICS: Emmys - 30 Rock - Tina Fey - Access Hollywood - Justin Timberlake
Copyright NBCAH - Access Hollywood