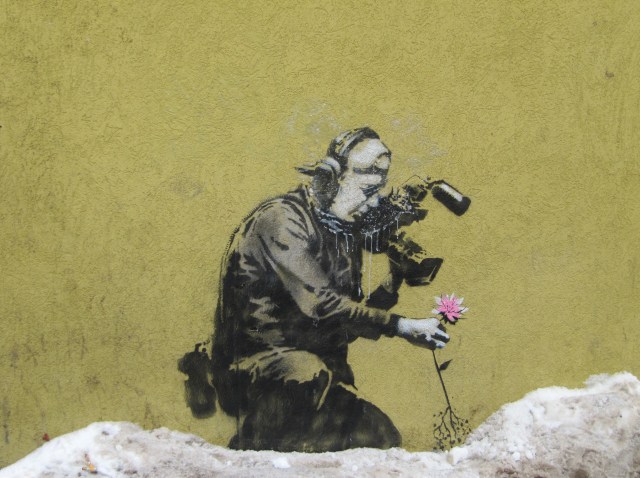 PopcornBiz's Scott Ross is reporting from the annual film festival in Sundance, Utah, where new independent films are unveiled.
Elusive graffiti artist Banksy was a late addition to the Sundance lineup, and as is his custom, he's marked his territory without stopping in to say hello.
Emblazoned on a dingy yellow wall in an alley to the left of the Egyptian Theater on Main Street in Park City, Utah, a man holding a movie camera kneels down in the (real) snow to pick a single pink flower. Unmistakably the work of Banksy, whose art began popping up around town last week.
U.S. & World
Stories that affect your life across the U.S. and around the world.
Banksy is here to promote "Exit Through the Gift Shop," what he terms the "the world's first street art disaster movie." It's a compilation of escapades being perpetrated by a variety of friends.
The project came about when two amateur filmmakers decided to chase down and unmask the famously anonymous artist. But Banksy turned the tables on them, making his would-be exposers the subjects of his own movie.
"The story is so bizarre I began to question if it could even be real… but in the end I didn't care," said John Cooper, director of the Sundance Film Festival, in a statement. "I feel bad I won't be able to shake the filmmaker's hand and tell him how much I love this film. I think I will shake everyone's hand that day and hope I hit on Banksy somewhere. I love his work in all forms."