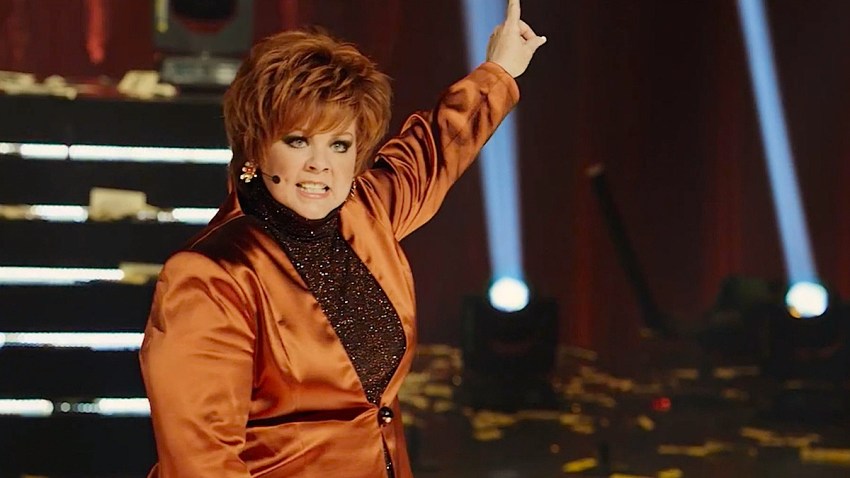 Warm weather may be weeks away in most parts of the country, but these spring titles are sure to heat up cinemas with action ("Hardcore Henry," "Criminal"), laughs ("The Boss," "Barber Shop: The Next Cut," "Keanu"), drama ("Demolition," "Nina") and family fun ("The Jungle Book," "Ratchet and Clank").
Check out these titles scheduled to hit screens in April.
"Miles Ahead" (April 1)
U.S. & World
Stories that affect your life across the U.S. and around the world.
Don Cheadle directs, co-writes and stars in this art-movie biopic that freely shifts time periods and narratives as it explores the life of jazz legend Miles Davis. [[374169001,C]]
"Everybody Wants Some" (April 1)
Billed as "the spiritual sequel to 'Dazed & Confused,'" writer-director Richard Linklater ("Boyhood") takes on the early 80s in this coming-of-age story about a Texas college freshman (Blake Jenner) and his new disco-loving, girl-chasing baseball teammates (Will Brittain, Ryan Guzman). [[374169601,C]]
"Demolition" (April 8)
Investment banker Davis Mitchell (Jake Gyllenhaal) begins to question his life choices following the unexpected and tragic death of his wife. Along comes a rebellious boy (Judah Lewis) and his sympathetic mother (Naomi Watts) who may just help Mitchell find his way back to life among the those still living. [[374262371,C]]
"The Boss" (April 8)
Melissa McCarthy plays loud-mouthed mogul Michelle Darnell in this comedy about what happens when the richest of rich suddenly find themselves having to live among everyday folk. Busted for insider trading, America's wealthiest woman is suddenly broke, homeless and shunned by her once adoring friends and fans. But a new business model based on selling brownies for girl scout troops may just be her way back to the top. Also stars Kristen Bell and Peter Dinklage. (Note: the following trailer contains strong language.) [[374261671,C]]
"Hardcore Henry" (April 8)
Video game meets big screen movie in this crazy action ride shot from the first person perspective. Henry awakes to learn that he's been brought back from the dead as a half-human, half-robotic hybrid who goes on a blood-soaked rampage to rescue a woman claiming to be his wife. Only thing is, Henry has no memory of his former life, and no voice. [[374262691,C]]
"The Jungle Book" (April 15)
Disney reboots the classic animated tale based on the Rudyard Kipling story – this time in live-action/CGI format featuring the voices of Neel Sethi (Mowgli), Idris Elba (tiger Shere Khan), Bill Murray (Baloo the bear), Scarlett Johansson (Kaa the snake), Ben Kingsley (panther Bagheera) and Christopher Walken (King Louie the orangutan). Jon Favreau ("Iron Man") directs. [[374262831,C]]
"Criminal" (April 15)
Kevin Costner plays a dangerous convict implanted with the memories and skills of a dead CIA operative (Ryan Reynolds) in order to complete the deceased's final mission. Think 21st century "Face-Off." [[374276901,C]]
"Barber Shop: The Next Cut" (April 15)
The third installment in the "Barbershop" franchise finds Calvin (Ice Cube) and Eddie (Cedric the Entertainer) joining forces with a hair salon to save the shop, and the neighborhood, from growing gang activity. Also stars Regina Hall, Anthony Anderson, Eve, Nicki Minaj, Common, JB Smoove and Tyga. [[374263261,C]]
"Nina" (April 22)
Zoe Saldana portrays Nina Simone in this biopic about the life of the legendary singer-songwriter and civil rights activist. The film also stars David Oyelowo, Ella Thomas, and Mike Epps. Simone's estate has declined to endorse the film. [[374277011,C]]
"Elvis & Nixon" (April 22)
"House of Cards" actor Kevin Spacey is back in the White House, this time in the guise of President Nixon, who on December 21, 1970 meets Elvis Presley (Michael Shannon) when the King arrives at 1600 Pennsylvania Avenue requesting a meeting with the Commander in Chief. [[374277571,C]]
"The Huntsman: Winter's War" (April 22)
The backstory to 2012's "Snow White and the Huntsman" sees Chris Hemsworth and Charlize Theron returning to their roles as the titular hero and evil queen, respectively. Betrayed by her sister Ravenna (Theron), literal ice queen Freya (Emily Blunt) retreats to a northern kingdom where she raises an army of huntsmen forbidden to fall in love. [[374263991,C]]
"A Hologram for the King" (April 22)
Based on the novel of the same name by Dave Eggers, "Hologram" finds corporate washout Alan Clay heading to Saudi Arabia to try and land the IT contract for a massive new building development. But it's Clay's journey inward that is the heart of this cross-cultural expedition. [[374277751,C]]
"The Meddler" (April 22)
Struggling to accept the death of her husband, Marnie Minervini (Susan Sarandon) moves from New Jersey to Los Angeles to be closer to her single, screenwriter daughter Lori (Rose Byrne). It's a case of mothering versus smothering in this gentle comedy. With bagels! [[374278241,C]]
"Mother's Day" (April 29)
Director Garry Marshall is back with another star-studded, holiday-centric movie – this time based around the titular celebration. Like previous efforts "New Year's Eve" and "Valentine's Day," "Mother's Day" features multiple storylines that interconnect and stars Jennifer Aniston, Julia Roberts, Kate Hudson, Britt Robertson, Sarah Chalke, Jon Lovitz and Timothy Olyphant. [[374279481,C]]
"Keanu" (April 29)
"We in the market right now for, like, a gangster pet," says Keegan-Michael Key as Clarence in the trailer for this action comedy that combines a rescue kitten with the music of George Michael and the joke stylings of Comedy Central's "Key & Peele" in the duo's first, big screen outing. When Rell's (Jordan Peele) kitten is stolen, he and Clarence must infiltrate a gang in order to retrieve the feline. [[374298091,C]]
"Ratchet & Clank" (April 29)
Based on the PlayStation video game franchise of the same name, this 3D animated tale explores the origin story of how Ratchet and Clank meet, and their attempts to save the Solana Galaxy from being destroyed by evil Chairman Drek and the Blarg. [[374279671,C]]