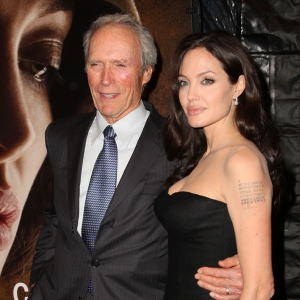 Almost every day, world-famous couple Angelina Jolie and Brad Pitt are referred to in the news as "Brangelina" — and the "Changeling" star said she doesn't mind, despite rumors to the contrary.
"Honestly, I don't have a thought either way," she told the U.K.'s Telegraph. "Although on the set of 'Changeling,' [director] Clint [Eastwood] was calling us 'Clintelina.' I think that sounds funnier."
VIEW THE PHOTOS: Angelina Jolie
U.S. & World
Stories that affect your life across the U.S. and around the world.
The New York Times reported on Thursday that the term, a combination of their names, "irked" the couple, and noted its absence in People Magazine's August 18 cover story — alleging that People traded "positive coverage" of the couple in exchange for the right to buy the first pictures of their newborn twins, Vivienne Marcheline and Knox Leon. A People rep told the Times the accusations were "categorically false."
But talking to the Telegraph, Angelina seemed more concerned about spending time with her clan than who called her what. While she told the newspaper she and Brad were "sure" their growing family would keep expanding, the actor's latest film, Quentin Tarantino's World War II drama "Inglourious Basterds," has kept him away from their six kids.
"I've not been on the set of 'Inglourious Basterds,' she said, joking, "this is a Tarantino film, so we're thinking, 'What's a good day to bring children on set?"
Still, being in Germany for Brad's latest movie has had its upside.
"Traveling with the family is fun," she said. "The other day, when we flew from LA to Germany, all of us had terrible jet-lag. The children kept waking up, so we all got up, turned on the TV, made snacks, and were up until 4 AM. We laughed our heads off — the kids are some of the funniest people Brad and I have ever met."
Related Content from AccessHollywood.com:
VIEW THE PHOTOS: Brad Pitt & Angelina Jolie
PLAY IT NOW: Brad Pitt Opens Up To Oprah
PLAY IT NOW: Angelina Jolie Talks Raising The Twins, Obama & More

MORE ACCESS ON THESE TOPICS: Angelina Jolie - Brangelina - Brad Pitt - Celebrities - Movies

Copyright NBCAH - Access Hollywood