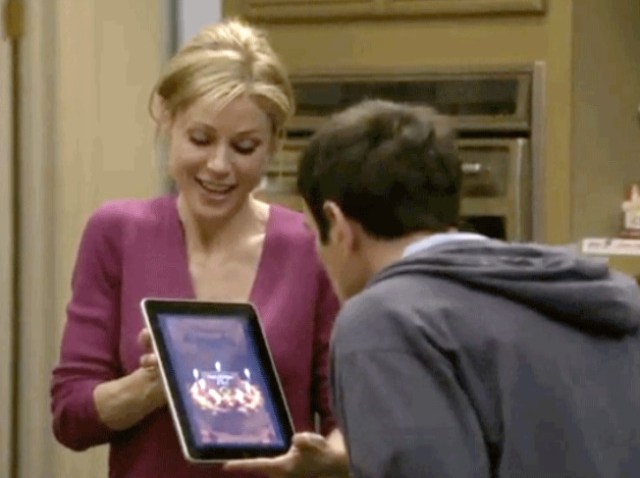 In terms of plot and timing, it seemed to make sense: Phil Dunphy, the klutzy, man-child, gadget-geek dad on ABC's great freshman sitcom, "Modern Family," covets an iPad for his birthday, which just so happens to coincide with the product's April 3rd release date.

His loved ones embark on a series of misadventures to get him one, and general hilarity ensues. The show, like others in the series, ends with a laugh wrapped in a dollop of sweetness (both supplied here by a birthday-cake app visual gag).

Then why did the iPad plotline, as Newark Star-Ledger TV critic Alan Sepinwall aptly put it, feel "kind of icky?"

Maybe some of us are just tired of the iPad hype. Maybe there's something off-putting about a popular TV show all-but shilling for a product pushed by a man (Steve Jobs) who is the single largest shareholder in Disney, ABC's parent company. Maybe we're just sick of product placement in TV shows, even if in this case, there was no payment from Apple ("It was all story-driven," show co-creator Christopher Lloyd told The Hollywood Reporter).

Or maybe we just expected more from "Modern Family," which quickly has established itself as the best sitcom of the season, and perhaps the finest comedy on network television. That's in no small part to the genuine characters who make up three branches of an eccentric and bickering, yet ultimately loving and tight-knit extended family.

It's a tribute to Lloyd and co-creator David Levitan that we care about this crew, and have become almost protective of them, including the goofy and gullible Phil.

So it's somewhat disconcerting, even if true to the character, to hear this virtual commercial spilling out of Phil's mouth as he takes umbrage at his wife Claire's dismissal of the iPad as a "doohickey": "It's a movie theater, a library and a music store all rolled into one awesome pad," he responds with child-like wonderment.

He left out television: on Thursday, a day after the show aired, ABC announced an iPad app that will let users watch a slew of the network's shows – including "Modern Family."

Now that takes the cake – virtual or otherwise.
Hester is founding director of the award-winning, multi-media NYCity News Service at the City University of New York Graduate School of Journalism. He is the former City Editor of the New York Daily News, where he started as a reporter in 1992. Follow him on Twitter.
Copyright FREEL - NBC Local Media