A man who was badly injured during last year's Amtrak train derailment in Philadelphia finally met the group of first responders who saved his life.
"Finally, I know the identity of these brave individuals and have been able to thank them – even have lunch with four of my guardian angels," said Robert Hewett.
On May 12, 2015, Hewett, 58, was sitting in the first car of Amtrak 188 when it derailed in Philadelphia, killing eight people and injuring more than 200 others.
"Right before I lost consciousness, I crashed head-on with another gentleman," Hewett said. "I woke up laying on a pile of rocks. All my clothes had been ripped off. I couldn't move my legs. I couldn't see out of my right eye."
Hewett said fires burned in the field near where the train careened off the tracks, but he was too badly hurt to move himself to safety. So he waited.
"I was scared laying there," Hewett said. "I couldn't move, I couldn't get away. I started yelling for help."
Eventually, that help came. First responders carried Hewett away from the scene.
U.S. & World
Stories that affect your life across the U.S. and around the world.
"I remember [the rescuer] saying, 'This guy's gotta go now or the whole back of his head's coming off,'" Hewett recalled.
Hewett was the first derailment survivor to arrive at Hahnemann Hospital but the last to leave. He suffered several fractures, a collapsed lung and spent seven weeks in a medically induced coma. The severity of his injuries required lengthy and extensive medical treatment.
After watching Hewett recount his rescue on the one-year anniversary of the crash earlier this month, Lisa Hogan knew her husband, Philadelphia Fire Lieutenant James Hogan, was one of the men who rescued him. Hogan then reached out to Hewett and helped identify all of the first responders who came to his aid and rushed him to Hahnemann Hospital, including Lt. Hogan, firefighter Michael Flacco, Philadelphia Police Officer Padraic Feeney, Officer Kevin McGorty, Officer Bryan Turner and Officer Sean King. Hewett, his wife and their two children met with all of his rescuers except for Turner and King and had lunch with them in Center City back on May 18.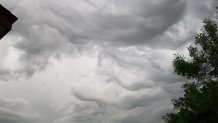 "We all now share a very special bond and I look forward to continuing to stay in touch," Hewett said. "We are forever grateful for what these first responders do every day."