EDITOR'S NOTE: This story was published on Nov. 5, 2014.
Less than 72 hours after being violently snatched off a Philadelphia street as she walked home from visiting her godson, Carlesha Freeland-Gaither has been rescued from the "vicious predator" police say kidnapped her.
Now as she recovers from the attack that was caught on video and seen nationally, focus moves to her alleged abductor, who authorities have linked to a similar crime against a teenage girl.
"I'm taking my baby home. Thank you," Keisha Gaither, the woman's overjoyed mother, told the public at a news conference Wednesday night. Her family erupted into applause as the woman spoke.
The 22-year-old was rescued from the car of her alleged kidnapper, 37-year-old Delvin Barnes, in a Jessup, Maryland, parking lot Wednesday afternoon, officials said. She suffered some injuries and was taken to a nearby hospital in Columbia, Maryland, for treatment, police said. She was listed in good condition and is expected to recover.
"It's very special for all of us. You hope, you hope, you hope, but you don't really know until you're actually able to get her, and make sure she's OK. So it's very important that this has a happy ending," Philadelphia Police Commissioner Charles Ramsey said.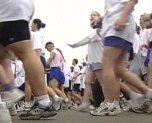 Agents moved in quickly after receiving a tip from the ATF Office in Richmond, Virginia, which was investigating Barnes. They believed the man may have been the suspect after seeing surveillance photos in news reports, Philadelphia detectives said.
U.S. & World
Stories that affect your life across the U.S. and around the world.
Authorities began tracking his gray Ford Taurus through a GPS device placed inside the vehicle by the car dealership where it was purchased, detectives said. The GPS was installed because Barnes had poor credit, officials said.
Agents honed in on his location, in a shopping center parking lot, and moved in to strike.
"He was more surprised than anything," ATF agent Tim Jones said of the arrest.
Barnes and the victim were in the backseat of the car when agents arrived, but he quickly jumped into the driver's seat to try and flee, Jones said. Agents blocked his way and took him into custody.
Freeland-Gaither screamed hysterically for help as the arrest was taking place, telling the agents she was the woman who had been abducted in Philadelphia, Jones said.
"Once she had time to process what had happened you could tell she was emotionally distraught," he said.
Barnes, who has ties to Philadelphia, apparently attacked Freeland-Gaither at random, detectives said. He is being held on an warrant for attempted murder of a 16-year-old girl last month in Charles City County, Virginia.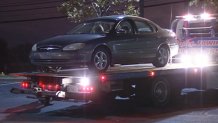 "He's a thug and this is what he does apparently," Ramsey said of the alleged abductor. "He's a vicious predator. He's off the streets."
Barnes will be charged federally in the alleged kidnapping and assault, said Edward Hanko, special agent-in-charge of the FBI's Philadelphia division. Officials said many times that the investigation remained fluid and had a long way to go.
A Three Day Ordeal
Freeland-Gaither's rescue puts an end to three intense days of searching by Philadelphia Police, the FBI and her family.
The nursing aide was grabbed as she walked along Greene Street near W. Coulter Street in the city's Germantown section at 9:40 p.m. Sunday. She was returning home from a visit to see her godson.
The woman was forced down the street and into a car. She struggled to get away, fighting her attacker and breaking out the car's rear passenger window. But she couldn't escape -- her glasses and smartphone left on the sidewalk.
The entire ordeal was caught on surveillance video and widely shared.
An intense manhunt ensued with the search quickly expanding from Northwest Philadelphia to Aberdeen, Maryland, where Freeland-Gaither's ATM card was used by a man early Monday morning.
Her family made tearful pleas for the woman's safe return and continued posting missing posters through Wednesday, never giving up hope.
Detectives got a break in the case from a woman living in Havre De Grace, Maryland. In her driveway, the woman found a bag of trash that included a receipt from an ACME supermarket in Northeast Philadelphia, a bag of Herr's potato chips and shattered glass.
The woman, who asked to remain anonymous, told NBC10 that she initially thought it was just trash, but later called authorities after talking to a friend about the case.
Investigators were able to use the receipt to hone in on the supermarket and gather clear surveillance video of Barnes from the day of the attack, detectives said. In the video, he could be seen buying the same chips that the woman found, police sources said.
Officials thanked the public for helping to move along the investigation.
"We worked tirelessly, around the clock, investigated every lead that we had, and we really appreciate the public coming forward giving us a hand, giving us all the information that we were able to sit there and work on," Philadelphia Police Northwest Detective Division Capt. James Smith said.
"Problems With Women"
Barnes has a long history with the law.
Philadelphia Police arrested the man in November 2005 on a slew of charges including rape, burglary, aggravated assault, making terroristic threats and reckless endangerment, according to court documents.
Police reports obtained by NBC10 stated Barnes beat, sexually assaulted and held his estranged wife captive -- defying a protection from abuse order. The woman is also the mother of his child, family said.
He jumped from the woman's closet, grabbed her by the face and dug his nails into her skin, according to the reports. He held her in the home overnight and allegedly forced her to have sex with him, the police report states.
The next morning, the woman begged Barnes to let her use the phone and call her parents. As she spoke to her mom, she was able to indicate she was in trouble and told her mother to call 911, according to investigators. When the parents arrived, Barnes began to beat them before they were able to escape and call police, according to the reports.
Barnes was eventually arrested, charged and found guilty of aggravated assault, criminal trespassing, false imprisonment and related charges, the documents show.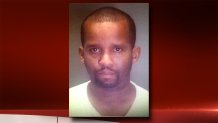 Lamar Barnes, the man's uncle, told NBC10 Wednesday night that his nephew recently was released from prison. He said the man is the son of a minister and that he's had trouble with women in the past.
"It's just hard for me to accept the viciousness of it, not necessarily surprised. You know some men grow up having problems with women so they take it out on women. Apparently he's one of them," Lamar Barnes said.
The uncle said he's glad to hear that Freeland-Gaither is safe and that Delvin's parents are "devastated" by the allegations.
"If he's somebody I didn't know, I would say whatever they do to him is fine. Well, he's my nephew, same thing. What am I gonna do," he said.
Two weeks ago, officials in Virginia dropped charges against Barnes. According to court records, he was arrested in July for making a bomb threat, which is a felony. That charge was amended to trespassing, a misdemeanor, and the case finally dropped on Oct. 24, the records show.
Four days later, sheriffs in Charles City County, Virginia, linked Barnes to the abduction, rape and torture of a 16-year-old girl.
Authorities said the girl went missing on Oct. 1 and showed up two days later at a business. She was naked, bloody and covered in burns smelling of bleach and gasoline, officials said.
DNA tests came back as a match to Barnes on Oct. 28, officials said. A warrant was issued and he was charged with attempted capital murder, abduction, forcible rape, malicious wounding, malicious injury with acid, explosives or fire and intimate object penetration, authorities said.
Coming Home
A Philadelphia Police caravan left the city late Wednesday carrying about 15 members of Freeland-Gaither's family to the hospital for a reunion with the victim.
The family made their way back to Philadelphia early Thursday morning in an effort to help the young woman move past the assault and begin the healing process right away, at home.
"Thank you so much for having us in your prayers, thank you for keeping me up. Thank you for being there for us," the woman's mother, Keisha Gaither said.
NBC10 reporters Rosemary Connors, Nefertiti Jaquez, Denise Nakano, George Spencer, Randy Gyllenhall, Tim Furlong and Deanna Durante and investigative producer Jim O'Donnell contributed to this report.
---
Contact Vince Lattanzio at 610.668.5532, vince.lattanzio@nbcuni.com or follow @VinceLattanzio on Twitter.