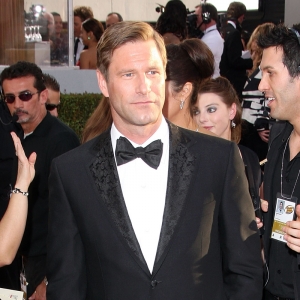 While Hollywood gathers to celebrate the best in TV and movies on Sunday night, it is a bittersweet evening for "Dark Knight" star Aaron Eckhart, who said his late co-star, Heath Ledger, remains in his thoughts.
"It's been an emotional week… We've had different [awards] shows and Heath is always in our thoughts and our hearts," Eckhart told E!'s Ryan Seacrest on the red carpet. "He's up for an award tonight. Of course, I hope he wins."
VIEW THE PHOTOS: 2009 Golden Globes Red Carpet
U.S. & World
Stories that affect your life across the U.S. and around the world.
Ledger received a posthumous nomination for Best Supporting Actor in a Motion Picture.
And while Eckhart, who played Harvey Dent/Two Face in Christopher Nolan's 2008 Batman summer blockbuster, was thrilled for the recognition the film has received, he wishes Ledger was by his side for the Globes.
"I wish that he was here to talk to you guys… and have the fans greet him because he's so beloved," Eckhart added. "I get the chills when I talk about him. I'm very proud of him, I've proud to have known him and been in the movie with him."
The other nominees for Best Supporting Actor are Tom Cruise ("Tropic Thunder"); Robert Downey Jr. ("Tropic Thunder"); Ralph Fiennes ("The Duchess"); and Philip Seymour Hoffman ("Doubt").
Related Content from AccessHollywood.com:
VIEW THE PHOTOS: 2009 Golden Globes: Movie Nominees
PLAY IT NOW: Access Showdown: 2009 Golden Globes Predictions
PLAY IT NOW: Access Archives: Heath Ledger

MORE ACCESS ON THESE TOPICS: Golden Globes - Movies - Memorable Moments - Heath Ledger - Batman

Copyright NBCAH - Access Hollywood