A Philadelphia court judge ordered poll workers to cover up a mural of President Barack Obama that was inside a polling place at a local school.
The uproar started when upset voters began circulating pictures via social media after voting at Ben Franklin Elementary School Tuesday morning.
The Republican Party quickly took action, filing a lawsuit that claimed illegal electioneering. The Republican Party of Pennsylvania Chairman Rob Gleason issued this statement on PAGOP.ORG.
"Whether it's blocking Republican Election Day workers form doing their job or violating Pennsylvania law by electioneering in the polling place, it is clear the Obama campaign has taken their campaign in the gutter to manipulate this election however they can. Based on the Obama campaign's behavior today, it certainly raises the question: what are Democrats doing in the polls that they are working so hard to shield folks from monitoring this election?"
Judge Milton Younge, Jr. of the Court of Common Pleas ordered that the mural be covered for the rest of election day with "blank paper or similar material" and "in its entirety," according to NBC News' Pete Williams.
As of 2 p.m., the mural was not entirely covered. NBC10 snapped a picture showing three sheets of paper covering the president's face.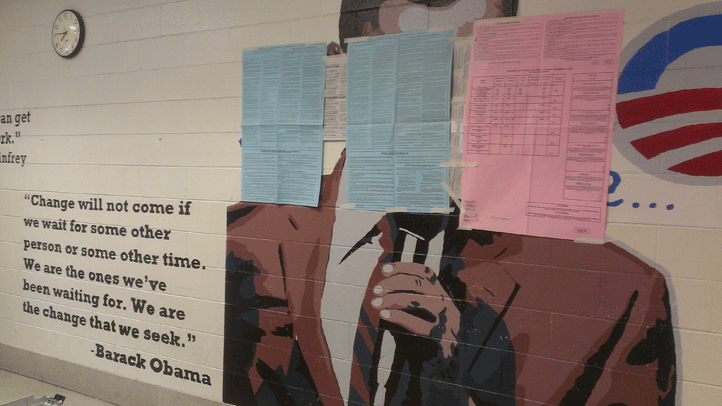 In other Pennsylvania election news, a Department of State official told The Associated Press that a voting machine was recalibrated and put back into service after a Perry County voter reported that it had switched his switched his vote from Obama to Mitt Romney.