It looks like Stonehenge. A doughnut. A giant sand castle.
Those were just some of the comments a new drone video taken with a GoPro camera of the futuristic Apple Campus 2 was garnering after the eight-minute raw piece was posted to YouTube.
As of Monday, the aerial image of the campus under construction in Cupertino on Tantau Avenue had more than 1.3 million views and 500 comments. "Wow, this looks huge," Dustin W. Stout wrote in the comments section of the video. "I've seen mockups previously of what the site is going to look like, but seeing it like this will all the homes in close proximity gives a perfect idea of just how massive the construction site is."
That's what Jason McMinn, co-founder of LocusLabs, wanted to find out when he set off his GoPro camera attached to a drone on Aug. 24. The 43-year-old techie told NBC Bay Area on Monday that he loves "artsy stuff and architecture" and was curious to see how the campus was shaping up.
"I've been watching it all unfold since the beginning," McMinn said, noting that the late Steve Jobs introduced this campus plan in 2006. "I'm a huge Apple fan."
His DJI Phantom 2 drone captured clear images of the circular site in Cupertino, revealing the silver tops of roofs and dry, tan dirt. He said he was especially pleased, since an earlier video he made of Oracle headquarters in Redwood City was very windy when he set his camera up in the sky.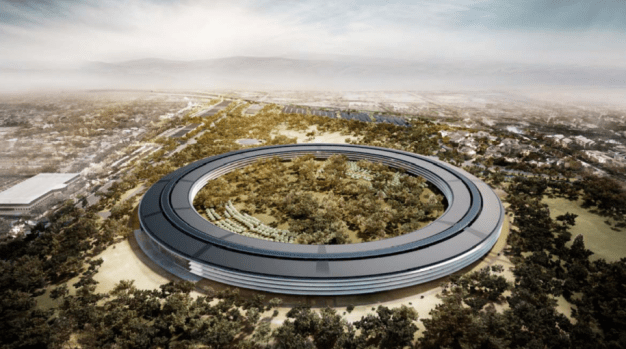 Apple's Spaceship Headquarters
McMinn said his remotely controlled quadcopter remained under 400 feet, per Federal Aviation Administration regulations, and did not enter any airport no-fly zones. Although the site is private property, airspace above 83 feet is not, according to a 1946 U.S. Supreme Court ruling, NBC News noted. The FAA allows for hobbyists to fly drones no higher than 400 feet.
Since the Campus 2 construction site in Cupertino, one mile from the official Apple headquarters, is fenced off, it's hard for anyone to get a ground-level peek of construction.
Still, images have been taken. Even by air.
NBC Bay Area's chopper flew over the Spaceship in May, as did a drone camera owned by Dana Diederich, who lives in Mountain View and was feeling "contrarian" because of all the extra traffic caused by the campus construction. He went around the "armed guards" on campus, he said, to "see what they were doing" from the sky.
Another set of aerial photos were posted in July.
Apple, which had no immediate comment on the drone video, has said construction is expected to be completed in 2016.
Campus 2 will be home to more than 12,000 employees and an environmentally friendly complex with 7,000 trees, drought tolerant plants and about 80 percent of open space.