Flags were at half-staff in Wilmington, Delaware Saturday in honor of two firefighters who were killed after the first floor of a burning row home collapsed.
Loved ones continue to mourn Wilmington Fire Lt. Christopher Leach, 41, and Wilmington Senior Firefighter Jerry Fickes, 51.
"All of our family is hurting, significantly," said Wilmington Fire Department Chief Anthony Goode. "The entire city is hurting significantly. I know I am."
Leach, who was assigned to Ladder 2, and Fickes, who was assigned to Squad 4, were two of the several firefighters who responded to a fire at a row home on the 1900 block of Lakeview Road in a development called Canby Park in Wilmington shortly before 3 a.m. Saturday. Smoke detectors inside the home began going off as a family of six slept.
"We were like, 'wake up, wake up, it's a fire!'" said Winter Brooks, who lives inside the home. "It was really scary."
After the first unit arrived, a report was transmitted of heavy fire from the rear and another engine was dispatched. Firefighters entered the home and tried to save the family members who they believed were trapped inside the basement. They didn't realize at the time however that the entire family had safely escaped the burning house.
As the firefighters remained inside, the first floor of the home, which investigators say was soft and brittle, collapsed. Leach and Fickes then fell through to the basement and were trapped inside.
https://www.instagram.com/p/BKvO_eDAfif
A Wilmington firefighter declared a "mayday" at 3:14 a.m. and officials directed more resources to assist them.
"Firefighters trapped, first floor," a dispatcher said in a recording obtained by NBC10. "Mayday has been declared. All units out."
https://www.instagram.com/p/BKvPj-OgzVy
Several firefighters searched through the home and eventually found Leach and Fickes. Both firefighters had died from their injuries.
"The saddest thing was having to watch them carry that firefighter out with an American flag over them, and it almost broke my heart," said neighbor Marion Veasey.[[394677361,C]]
U.S. & World
Stories that affect your life across the U.S. and around the world.
Veasey, who lives right behind the home that caught fire, said she was awakened close to 3 a.m. by all the commotion and ran to the back window.
"The flames were shooting out of the top of the house. It was everywhere. Everywhere. It was the most horrific thing I've ever seen," Veasey said. "The most horrible thing is a house can be replaced, but not these lives."
Four other firefighters were also injured during the fire. Two of the survivors remain in critical condition at the Crozer Chester Medical Center Burn Center while two others were treated and released from Christiana Hospital.
The fallen firefighters both leave behind children and families. Leach was with the department for 14 years and Fickes spent the last 13 years as a Wilmington firefighter.
"He died a hero," said Betsy Arnold, a neighbor.
A prayer service was held for the two firefighters at the Salesianum School in Wilmington where Leach had attended as a teen. Leach's son also currently attends the school. Leach had visited the school just last week to talk with students.
"He told the students about how much he loved his job," said Salesianum School president Brendan Kennealey, who was also Leach's classmate in the 90s.
Just last week, Leach left a Facebook post that seems to underscore his love of the job.[[394678451,C]]
Vice President Joe Biden visited the scene of the deadly fire Saturday night. He was one of many leaders who tried to comfort the family of the fallen first responders. Delaware Senator Chris Coons also attended the prayer service.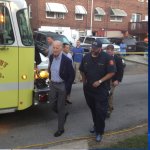 "It should remind all of us just how grateful we should be for all of our first responders who take up jobs where every day they don't know if they'll come home," Senator Coons said.
In addition to their work as firefighters, Leach and Fickes were also known for helping others and collected coats for needy children during the winter.
"Jerry and I started in the fire service many, many years ago," said Tim Taggart of Local 1590. "He's one of the toughest guys I know."
Federal agents from the Bureau of Alcohol, Tobacco, Firearms and Explosives are assisting in the fire investigation, which will be led by the state fire marshal's office.