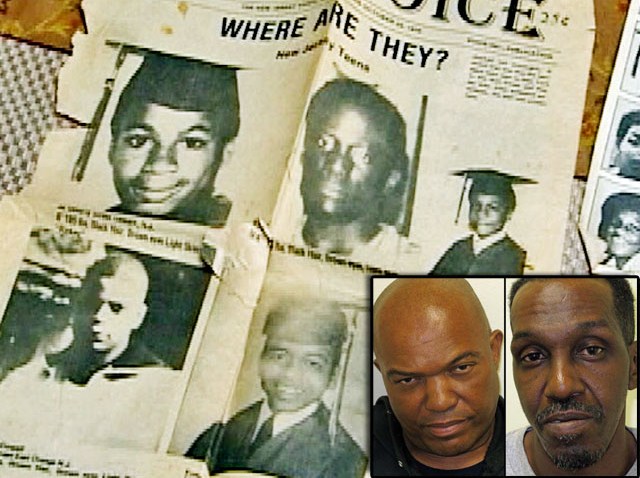 Two men have been charged with shutting five teenage boys into a house and burning it to the ground in a case that has been one of New Jersey's greatest unsolved mysteries for more than 30 years.

Lee Evans, a 56-year-old carpenter, and 53-year-old Philander Hampter of Jersey City, were each charged with five counts of murder and arson, the Essex County prosecutor's office said. A third suspect allegedly connected to the crime died in March 2008 of natural causes, officials say. All three men were cousins.

The boys' mysterious disappearance on a hot summer afternoon in 1978 baffled detectives and haunted the city for more than three decades. Finally, the arrests of Evans and Hampter bring residents and authorities some measure of closure.

"With these arrests today we hope to bring closure to a 31-year-old mystery involving five teenage boys who vanished from Newark on Aug. 20, 1978," Acting Essex County Prosecutor Robert Laurino said at a press conference Tuesday morning. "For years their families wondered what happened on that August day. Today, we believe, that question has been answered."

Laurino said a witness tip 18 months ago led to a break in the case. Authorities now believe the suspects corralled the boys to an unoccupied home at gunpoint, tied them up and set the building on fire; all five teenagers perished in the blaze.

Investigators said they believe that two of the boys were taken to the house first, and that three more were taken later.

The prosecutor's office said the suspects may have targeted the victims because they allegedly believed the boys stole a pound of marijuana from them.

The boys, Melvin Pittman and Ernest Taylor, who were both 17, and Alvin Turner, Randy Johnson, and Michael McDowell, who were all 16, were last seen on a busy street near a park where they had played basketball on Aug. 20, 1978. They were with Evans, who routinely hired teens to help him with odd jobs, police have said.

Evans told police at the time that he dropped off the boys on a street corner near an ice cream parlor. Later that night, Michael McDowell returned home and changed clothes, then returned to a waiting pickup truck with at least one other boy inside.

That was the last confirmed sighting of any of the teens.

Authorities hoped to find the boys' remains at the vacant home where they believe the teenagers died, but an extensive search with ground-penetrating radar turned up empty. To this day, detectives do not know where -- or if -- their remains are buried.

The boys were never heard from and left no trace of evidence after they vanished that fateful August day. The circumstances of their disappearance -- a complete and total erasure of five teens who weren't the runaway types -- confounded investigators for decades.

Detectives followed leads all across the country in an effort to solve the case of the "Clinton Avenue Five," but cops had no fingerprints and only one of the boys had dental records. And, at first, they believed they were looking for missing people, not murder victims.

Evans was repeatedly interviewed in the months after the disappearances but passed a polygraph examination and was cleared as a suspect.

Four of the boys were from Newark. McDowell had recently moved to East Orange.

McDowell's aunt, Helen Simmons, called the arrests "a bittersweet victory" on Monday and told the Star-Ledger newspaper that "finally someone will be accountable."

Johnson's mother said 10 years after her son disappeared that she especially missed him around 9 p.m., "when I could always hear the basketball bouncing, bouncing, bouncing as he walked home from the park."

Evans and Hampton are being held in lieu of $5 million bail each. They are scheduled to be arraigned tomorrow.

Newark Police Director Garry McCarthy expressed his condolences to the family and loved ones of the victims who have endured decades of immeasurable pain coping with the uncertainty surrounding the teens' disappearance.

"I hope that the relentless pursuit of justice demonstrated by the investigators on this case will bring some level of solace to the families," McCarthy said.
Copyright AP - Associated Press