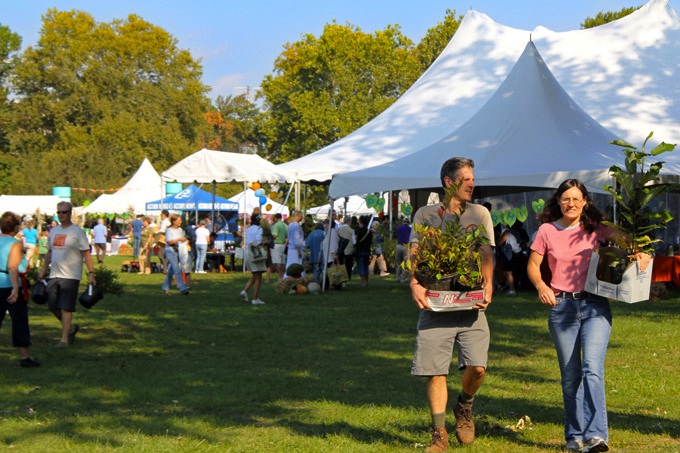 The Pennsylvania Horticultural Society (PHS) celebrates the start of autumn this weekend with their ever-growing Fall Festival!
In addition to the crowd-pleasing Plant Dividend Tent (for new and existing members) and exclusive sneak peek at the 2015 Philadelphia Flower Show (Lights, Camera, Bloom!), you'll uncover a fertile crop of activities happening all around the Navy Yard grounds from 10 a.m. to 5 p.m.
Highlights include live music, a farmer's market where you can hunt and gather locally-grown produce (including organics), a garden market featuring all sorts of plants and garden tools and a pop-up Franklin Flea Market for digging up antique, vintage, handmade and up-cycled treasures!
Local
Breaking news and the stories that matter to your neighborhood.
Keep the little tykes entertained with crafts, races and other activities designed to educate, engage and entertain in The Kids Zone. Cultivate new skills by participating in DIY workshops, or harvest fresh ideas for your own garden from on-site experts.
Afterward, toast to your newfound knowledge in the alfresco, pop-up beer garden provided by the Yards Brewing Company. That'll make your visit to the Garden Bounty (flower arranging, herbs and vegetables) and Garden Giants Contest areas even more fun! After all, where else can you publically behold supersized pumpkins and share tall veggie tales with your friends?

Entertainment Lineup
11 a.m. to 12:30 p.m. - Jesse & the Revelator
12:45 p.m. to 3 p.m. - Greg Davis
3 p.m. to 4 p.m. - Independence School of Rock Band
4 p.m. to 5 p.m. - 2stock Acoustic Band
For more information, visit PHS.org, after the jump!
If you can't make the festival (and even if you can), be sure and visit the PHS Pop-up Garden on South Street, open daily through October 19th.

Insider Tips
Join PHS or renew your membership at the festival and take home a free plant!
Festival admission and parking are free. For driving directions, follow the click. If you prefer public transportation, hop on SEPTA's Route 17 Bus to the Navy Yard.
PHS Fall Festival
Saturday, September 20, 10 a.m. to 5 p.m.
Navy Yard Parade Grounds
South Broad Street, Philadelphia, PA 19112