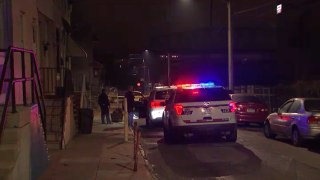 Police found a woman's body apparently dumped on a Philadelphia sidewalk early Saturday.
Police discovered the body of the woman, believed to be in her 30s, around 3:30 a.m. on the 300 block of East Tusculum Street in the Kensington neighborhood, officers at the scene told NBC10.
Surveillance video showed a red car, possibly a Nissan, parking before the passenger door opened, Philadelphia Police Department Officer Tanya Little said. The passenger door then closed and the woman's body appeared on the ground as the car drove off in the direction of Kensington Avenue, Little added.
The cause of death was unknown, police said.
Elsewhere, police discovered another body. The 62-year-old man was discovered unresponsive in a car on the 800 block of Union Street, a residential area in West Philadelphia, Little said.