A Mount Holly, New Jersey woman is accused of shooting and killing her wife inside their home.

Laura Bluestein, 28, was arrested on August 7 and charged with murder, possession of a weapon for an unlawful purpose and tampering with evidence.
The investigation began on August 6 when police were called to Bluestein's home on the 100 block of Mill Street in Mount Holly after being notified by a relative that an assault may have occurred inside the house. When they arrived they found the body of Bluestein's wife Felicia Dormans, 29, inside. She was suffering from a gunshot wound to the face and was pronounced dead at the scene.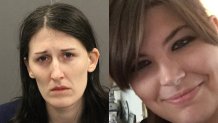 Investigators said Wednesday that Bluestein had physically abused Dormans and the two were discussing a separation prior to the fatal shooting. Dormans' mother Christina Dormans told investigators she spoke with her daughter on the phone on August 6. Her daughter told her she and Bluestein had been arguing and she urged her to leave the house. It was the last time she spoke with her daughter.

During prior conversations, Felicia Dormans had told her mother that Bluestein physically abused her, according to investigators. In the aftermath of her daughter's death, Christina Dormans is now urging domestic violence victims to reach out for help.

"People in abusive relationships are not trapped," Christina Dormans said. "They do not have to stay there. If you are in that kind of situation, please know that there is a way to get out before it gets to a point where somebody loses a life."
Local
Breaking news and the stories that matter to your neighborhood.
A funeral for Felicia Dormans was held on Monday. She will also be honored at an upcoming Burlington County Silent Witness Project vigil which will pay tribute to slain domestic violence victims as well as survivors.

There were 61,659 domestic violence offenses reported to police in New Jersey in 2015, according to the Burlington County Prosecutor's Office. While the number decreased by 1 percent from the previous year, the number of domestic violence-related homicides rose by 7 to 49, officials said.
Help for victims of domestic abuse in Burlington County is provided for free by the Providence House which can be reached through a 24-hour hotline at 1-877-871-7551 or 609-871-7551. More information on their domestic violence services can also be found online here.

As she continues to mourn her daughter, Christina Dormans plans on volunteering at a Pennsylvania organization that offers services to domestic violence victims.
"If I can save someone else's life, then that is what I want to try to do," she said. "I don't want to see someone else go through this. Felicia was a beautiful person and my best friend. I miss her so much. She kept saying, 'Maybe we can work it out,' and I just kept telling her to come home."