Family and friends say the woman found stabbed to death inside a van in Philadelphia Saturday morning was a mother of six young girls.
The woman was identified as 34-year-old Ashley Lockhart of West Philadelphia by police and family members Monday.
The Lockhart family wrote on a GoFundMe page that she left behind her "6 Charms," what the mother had always called her girls, ages 5 months to 10 years old.
On Monday, Philadelphia District Attorney Larry Krasner called Lockhart's death "extremely sad and very, very troubling."
Lockhart was in the front passenger seat of a van when she was discovered with multiple stab wounds throughout her body, including one to her face, around 8:23 a.m. along the 5300 block of Chestnut Street in the University City neighborhood, the Philadelphia Police Department said.
Bystander video showed police officers, firefighters and medics surrounding the gold Honda Odyssey van the woman was in as they placed a white sheet next to the passenger's side door and removed her body.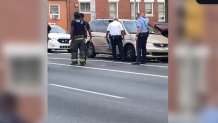 Philadelphia's District Attorney's Office said Raymond Thompson, 34, of Kensington, turned himself in to police. He was arrested near his home about 45 minutes after officers found Lockhart's body, police said.
Local
Breaking news and the stories that matter to your neighborhood.
Authorities said Thompson was Lockhart's fiancé, however, she had a protection from abuse order against him at the time.
"This particular victim obviously did the right thing, but for some reason, she was with this man in that particular van," Assistant District Attorney Joanne Pescatore said. "I don't know why that was. But sadly enough, she's not going to be here to tell us."
Thompson faces murder and related charges, court records showed. He was denied bond.
Entering Monday, there were at least 333 homicides in Philadelphia in 2022, according to Philadelphia police data. That outpaces by 3% what we saw at this same time last year, which wound up being the deadliest on record in the city.
DOMESTIC VIOLENCE HELP: The National Domestic Violence Hotline at 800-799-7233 or 800-787-3224 (TTY) provides people in distress, or those around them, with 24-hour support.