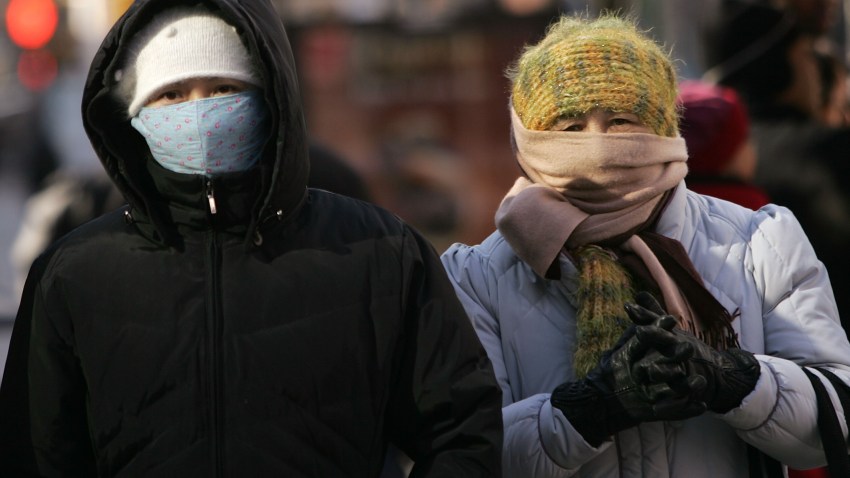 Great Time for a "Seinfeld" Reference
Since I believe that practically anything in life can be explained using a "Seinfeld" reference, here is the way snow and cold lovers will feel when they see the new long-range forecasts. "IT'S GO TIME!"
(The expression is from the episode where Jerry accidently challenged senior citizen Izzy Mandelbaum to feats of strength. Izzy, played by Lloyd Bridges, would infer an unintended challenge and yell: "It's GO TIME!")
Why "Go Time" Now?
Even in this new era of extremes, December 2015 stands out. To break a monthly temperature record is significant enough, but it's being broken by the greatest margin of any temperature record. If such a record is broken by ½ of a degree, that's a big deal. This record will be broken by around SEVEN DEGREES!
Local
Breaking news and the stories that matter to your neighborhood.
You might remember the most recent super-mild December in 2011. That winter ended up with only 4 inches of snow. Half of the years on the list of Top 10 warm Decembers ended up with EIGHT inches or less. And the average was 11.7 inches (about half of "normal"). So, there obviously needs to be a huuuuge change in the overall weather pattern to get to a cold and snowy period.
Here Comes the Change
I've been showing upper-air maps for a couple of months, illustrating the changes that would result in an extremely mild November and December. Here are examples from early November and early December. These maps show cold air in the West and warm air in the East. And if you trace the line from Philadelphia westward, you can see where our air would be coming from. In both cases it was from the Central Pacific Ocean, where it's plenty mild.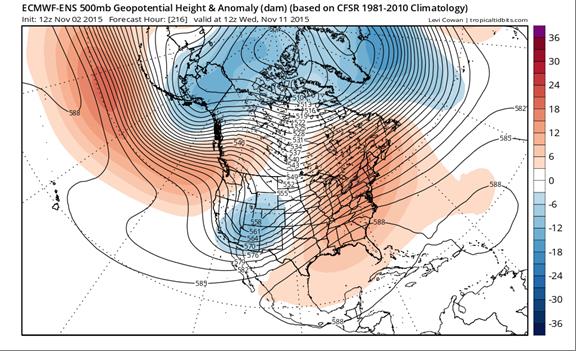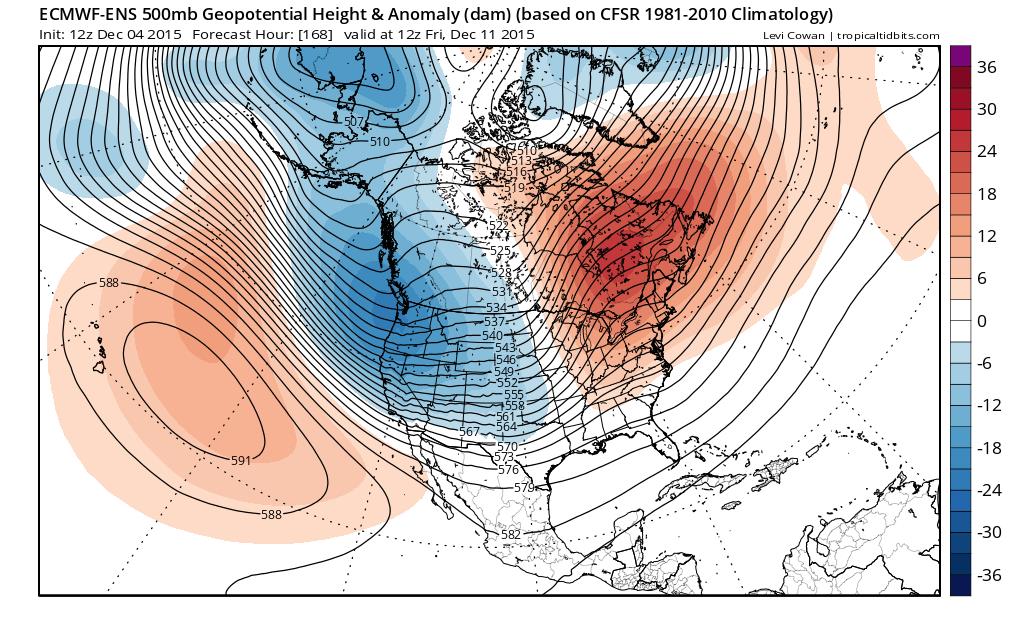 Now look at the forecast maps for January 1st and January 13th: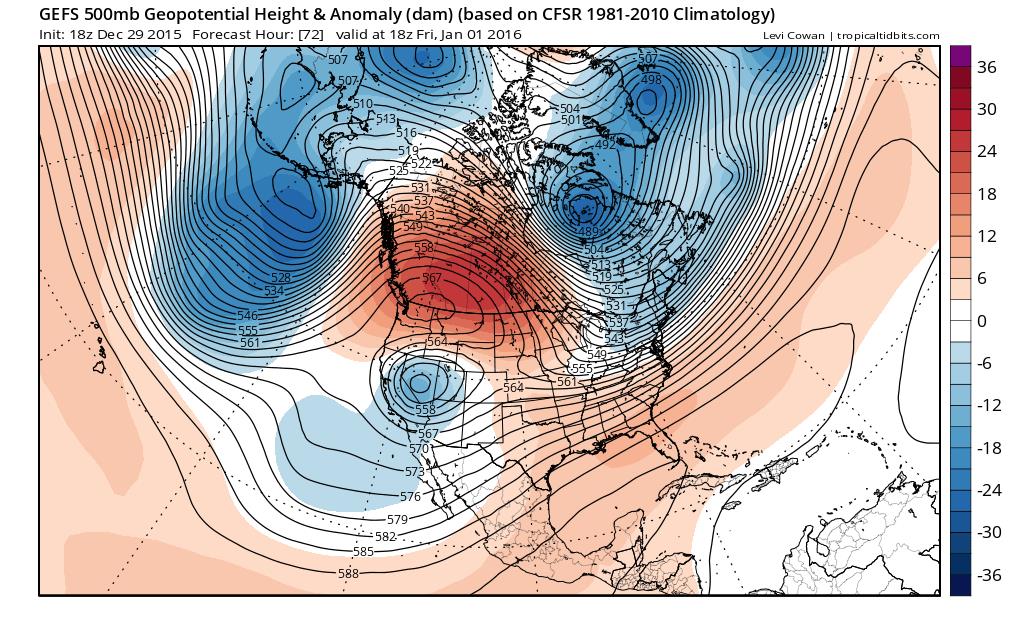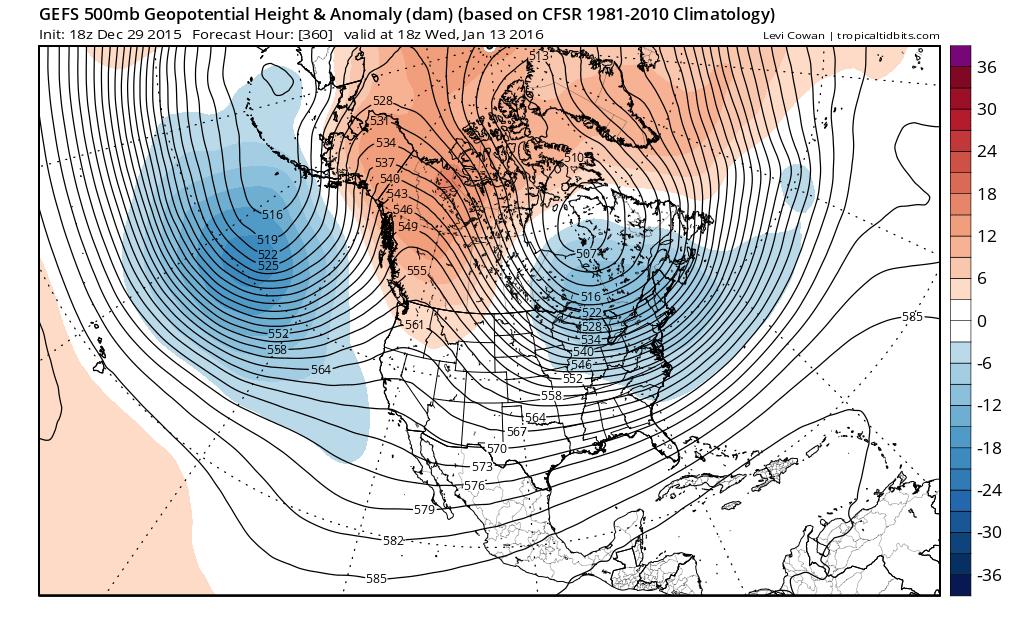 Now some blue colors show up in the Eastern U.S. Those represent below normal pressures. Remember the "Polar Vortex"? It's that circle north of the Great Lakes and it's moving closer to us. Trace the air back from Philadelphia and we see our air will be coming from Central Canada in the first map and near the North Pole in the second. So, the Arctic air will have a clear path to us. The lines being so close together represent unusually strong winds-a strong Polar Jet Stream. And the top map shows what is known as the Subtropical Jet Stream coming from Northern Mexico to North Carolina. This is the branch that brings much of the moisture and helps develop big storms. It is also something that comes with any strong El Nino, let alone the strongest ever recorded like this year.
There are other signs of the types of blocking patterns that often lead to cold and snowy weeks, or even months, as we've seen in some recent winters. But this time, the Subtropical Jet is even stronger. Warmer air holds more moisture, so the super-warm Pacific and Atlantic can provide more "juice". The "super Jet" and "extra juice" have already helped to bring:
record warmth in the Eastern U.S.-from Maine to Florida
record late start to snow season in Buffalo & other cities
record flooding on the Mississippi River
record snowfall in parts of New Mexico and West Texas
rare multi-day tornado outbreaks in the South
More Records to Come?
In the past decade, there have been many records set in Philadelphia for:
warmest months
warmest year
hottest summer
snowiest winters (#1 and #2)
wettest day
wettest months and several more…..
With a record El Nino to add to the already volatile mix, more extremes are likely around here this winter and spring.
And the "Disputed" Factor?
While the earth is just finishing the warmest year in recorded history, we need to remember that approximately 90% of the added heat has actually gone into the oceans. Is it a coincidence that the most dominant ocean/atmosphere phenomenon is at record levels? Look at the latest map of ocean temperatures compared to "normal" (anomalies):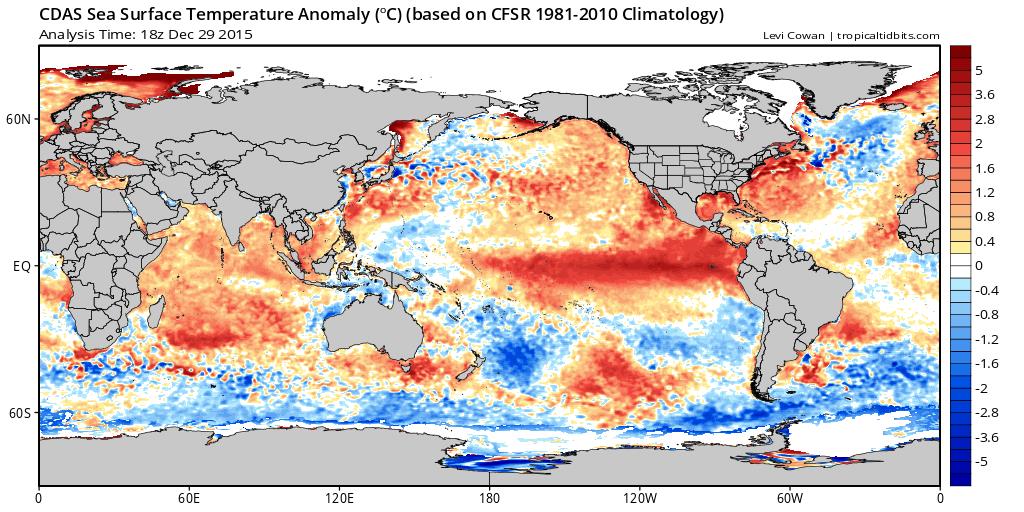 That bright red band in the Pacific is the El Nino. But also look at how "red" the Gulf of Mexico and Western Atlantic are! And the rest of the Eastern Pacific is much warmer than normal, too. How can we scoff at the potential influence of the overall warming on so much extreme weather? Weather and climate are different things. But eventually, climate changes can and do lead to weather changes if they are strong or persistent enough.
The wild ride continues…….
Glenn "Hurricane" Schwartz
Chief Meteorologist, NBC10 Philadelphia