While the weather stories the past few days have been about rounds of unsettled weather including rain and wintry mix for some moving across The Delaware Valley, we now turn our attention to a POLAR PUSH of frigid air sweeping in by late Thursday and thwarting overnight lows in the 20s.
We've been hovering close to or slightly above normal with our daily temps, but now expect our high temps to be about 10 to 15 degrees below normal. Overnight lows will also be below the norm of 33 (Philly) by the end of the week.
The images below depict a deepening blue gradient denoting the colder air moving in and then pretty much staying there through Monday. However, we won't be done with the cold of course (Meteorological Winter has just started!) and I'm already tracking an ARCTIC BLAST by the end of the following week.

[[405279436, C, 400,300]]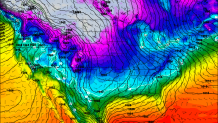 Our weather will be dominated by a high pressure system for the most part through Sunday, although we could get some low-level moisture creeping into The Lehigh Valley and Pennsylvania suburbs, with a northwest wind influence. That means we could get some lake effect snow, with the strength of the low over Canada and strong northwest winds. With that said, winds will shift from Thursday westerlies to Friday gusty northwesterlies. I expect the winds to kick up by Thursday afternoon; however, it isn't until the colder air and northwest shift takes hold that most of us will notice the polar push.
A look at the wind profile below of the last run of NAM (12Z) highlights Thursday's west wind shifting to WNW wind by Thursday night then a NW wind by Friday morning. Of course, that means wind chill indices or "feels-like temperatures" are absolutely going to be compromised, making it feel like temps are colder than they actually are. [[405281316, C, 480,270]]