An officer fatally shot a Delaware man wanted on an attempted murder charge after the suspect pointed a gun at the officer during a foot chase, police said Thursday.
On Thursday, New Castle County Police said county officers were following 21-year-old Keith Price as he operated a green Honda shortly after 2 p.m. Wednesday as part of a separate shooting investigation dating back to April 9. Police attempted to stop Price at 24th and Market streets but he refused to stop and drove off, investigators said.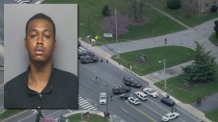 Price first crashed near 24th and Carter streets, damaging at least two police cruisers in the process, investigators said. He then continued driving a few more miles until he crashed again into a white SUV on Philadelphia Pike. He then got out of his vehicle and ran away, police said.
Officers chased after him leading to a confrontation in front of the nearby St. Helena's Church on 602 Philadelphia Pike.
Price hid in some bushes then emerged, pointing a hand gun at two responding officers, police said.
At least one of the pursuing officers opened fire, police said.
The two officers were treated at the hospital and released, police said. One of the officers is an 18-year veteran the other has spent two years on the force. They both were placed on administration leave during the investigation.
Several neighbors told NBC10 they witnessed the incident.
Local
Breaking news and the stories that matter to your neighborhood.
"They had a high-speed chase going on," Ann Marie Gemignani said. "And then the suspect got out and ran and then foot chase. The guy had gotten shot, the suspect. And the officer went to the hospital and the guy is still laying on the ground somewhere over that way."
Three other witnesses also told NBC10 the noise from the incident sounded like "pots and pans." A worker at a nearby restaurant also said he heard at least three gunshots during the ordeal.
Price had prior convictions in 2015 for prohibited possession of a firearm and carrying a concealed deadly weapon, Delaware Department of Justice spokesman Carl Kanefsky said.
Copyright AP - Associated Press