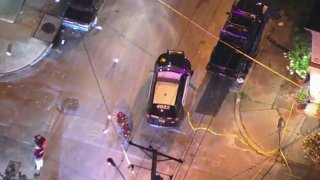 A teenage boy and a young woman died in a quadruple shooting in Wilmington, Delaware, late Tuesday night.
A large police presence could be seen responding the scene just before 11 along Beech Street, near Van Buren Street, after the deadly shooting.
Nyzere Seth, 17, and Alexus Cumberbatch, 23, both died in the shooting, Wilmington police said. An 18-year-old man and a 26-year-old man were hospitalized in stable condition.
Investigators didn't reveal a motive or any description of a suspect. They asked that anyone with information call Detective Mackenzie Kirlin at (302) 576-3653 of provide a tip to Delaware Crime Stoppers at 1-800-TIP-3333.