4 p.m. 26 year old Lizzie Armitstead from England came out on top of that race, winning herself not only a $5,000 prize, but the coveted world leader jersey - putting her at number one internationally.

"It's always nice to be able to race in this jersey. It's an honor," she said. 'It's something that you only experience a few times in your career and I'm very proud to wear it."
2:30 p.m. Just off Reservoir Drive, volunteers eagerly wait for their teams to whiz by and snatch snacks for the long ride ahead.

"The feed zone is for teams to give riders water or energy bars and stuff," David Mitchell, USA Cycling Official, said.

"Riders come through and grab bottles to keep them hydrated and fueled up for the race," he said. "I call it 'controlled chaos.'"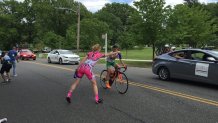 1:45 p.m. Alice Carpenter, co-owner of G4 productions, which is leading the event planning said "today is amazing. We couldn't be happier. It's a great turnout and we've assembled a fantastic team of seasoned staff."

Over at the East Falls Block Party, hosted by the East Falls Development Company, the group is celebrating their eleventh year of bringing neighbors in for a family-fun party during bike race.

"When I came to Philly there was no event and I couldn't believe it," coordinator Gina Snyder said."Then I started working at EFDC and we started a tiny event. Then it started growing."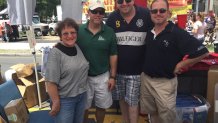 In 2014, the bike race started including the East Falls Block Party as a sprint zone, making it more attractive to neighbors.

The Metro Presbyterian Church joined the East Falls Block Party with kid-friendly crafts and bubble paints.

"Our church is for young families," church member Melissa Chiu said. "Every year we do crafts and every year it's just about connecting with neighbors."

12:35 p.m. The women's race is underway. Today's World Cup race — the only in the U.S. this year — features 96 cyclists on 19 teams.
12:05 p.m. Spain's Carlos Barbero came in first place during his first-ever trip to America.
11:45 a.m. As the men are completing their final lap, the participants in this year's women's race are beginning to sign in.

11:15 a.m. NewsWorks caught up with Karen Bliss, who grew up in Quakertown and came in third in the women's race in 1994. She said being a "hometown hero" comes with a special set of challenges.

"You don't want to let your friends and family down. But it is fun. You're racing in front of people you know and love," she said.

10:40 a.m. Robin Carpenter continues to lead the pack at the top of the wall. The crowd is erupting for their hometown cyclist as he passes through.

At this point, the cyclists at the lead are averaging 26 miles per hour.

10 a.m. Heading into a difficult climb up the wall local favorite and Philly native Robin Carpenter was leading the pack.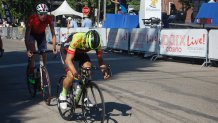 9:30 a.m. Gary Young, 52, rode the course this morning for the first time since 2010. "It's a tough course," he said. "I give the riders credit."

Young also added that he is glad this year's featured race is the women's race. "They deserve the hooplah," he said.

American Kiel Reijnen, who has won the men's race the past two years, will set a new record for consecutive wins if he wins again this year.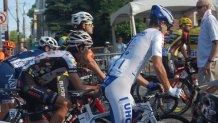 For anyone interested in biking over to watch the race, there are bike valets available this year
8 a.m. The men's race is underway. Mayor Michael Nutter kicked off the day's race and said "We are excited to be out here on the wall in beautiful downtown Manayunk."

There will be 167 men competing in today's race from 16 different countries.

Lisa Nutter was also on hand in her biking gear after participating in the morning's amateur ride. "That hill is pretty tough," she said.

The men's race will include nine laps for a total 110.7 miles/173 km. It will end at noon.

6:45 a.m. Participants in this year's recreational ride have taken off from the starting line at Sedgley Drive and Lemon Hill Drive. The amateur riders will be able to take as many laps as they can on the 12.3 mile circuit between 6:45 and 8 a.m.

The Men's Race will take begin at 8 a.m. and will include nine laps for a total 110.7 miles/173 km. It will end at noon.

The Women's World Cup Race will begin at 12:30 p.m., and will include six laps for a total of 73.8 miles/115km. It will end at 3:45 p.m. The Women's World Cup Race is returning to Philadelphia for the first time in 14 years. And for the first time ever, this race will the feature of the day.

Copyright NWRK- Newsworks.org