A year ago, a fast moving fire sprinted through eight rowhomes along Gesner Street, killing four children and destroying a community in the process.
Many of those charred brick, wood and vinyl homes remain standing today — a literal black shell of their former glory. The houses assault the senses of residents that remain on the block. A view of death and decay, a smell of scorch and must, the deafening sound of stillness. It's become unbearable.
"It looks like a bomb hit it," said Tyrone Watson while describing the street. Watson is the co-captain on the tiny one-block enclave. He says neighbors can't move on from the tragedy while the houses remain standing in their current state.
"We expected this to be done within a year, with all the homes remodeled, and unfortunately it's not," Watson said. "Most of the owners just came and cleaned it out and boarded it up and that's the end of that."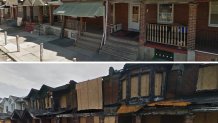 A few of the significantly damaged rowhomes have been fully repaired since the fire. Kim Walker and her 11-year-old daughter moved back into their home, 6526 Gesner, on the western end of the damaged stretch in December. Walker's next-door neighbor, Rasheeda Seward, also repaired her home and moved back in late last year.
On the other end, the northern flank of the set, repairs to 6510 Gesner are 90 percent complete, according to Philadelphia's Department of Licenses & Inspections.
Local
Breaking news and the stories that matter to your neighborhood.
But in the middle, destruction remains. At 6518 Gesner, the home where 4-year-old twins Maria and Marialla Bowah and brothers Patrick Sanyeah Jr., 4, and 1-month-old Taj Jacque perished, it wasn't until last week that a new front door and window were installed . Still, trash bags remained piled on the hollowed out porch.
L & I Commissioner Carlton Williams tells NBC10 many property owners continue to work with insurance companies regarding the damage. None of the homes have been deemed imminently dangerous — in danger of collapse — so the city has not stepped in to knock them down. All, however, have been cited with unsafe property violations, records show.
"Those that have not started [renovations] will require court action to force repairs, but it is our hope that the families will repair the properties through the insurance companies without court intervention," Williams said.
Watson, the block captain, said a number of the homes were rentals. He hopes the landlords will speed up the work and, if not, that the city will step in sooner than later.
"Think about us, we still have to live here. Do something with it or give it to the city and let the city handle it. Maybe they can do a better job and faster," he said.
---
Contact Vince Lattanzio at 610.668.5532, vince.lattanzio@nbcuni.com or follow @VinceLattanzio on Twitter and Facebook.