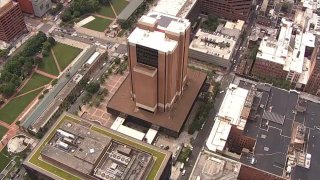 An "unknown white powder" that caused the evacuation of a federal courthouse in Philadelphia ended up being nothing more than some "old food," according to police.
Police got a call about the "substance" at 10:43 a.m. Tuesday, which triggered the short-lived evacuation at the James A. Byrne U.S. Courthouse at 601 Market Street.
Initially, the Philadelphia Police Department said the "substance" was in a package addressed to the unnamed judge.
The courthouse was briefly evacuated before people were let back in around 11:19 a.m., a PPD spokesman told NBC10 Tuesday afternoon.
"It was old food that the judge had brought in," the spokesman told NBC10, clearly tickled by the incident.
It's probably time for everyone to check their office fridge to see what other potential hazmat situations could be lurking in there.