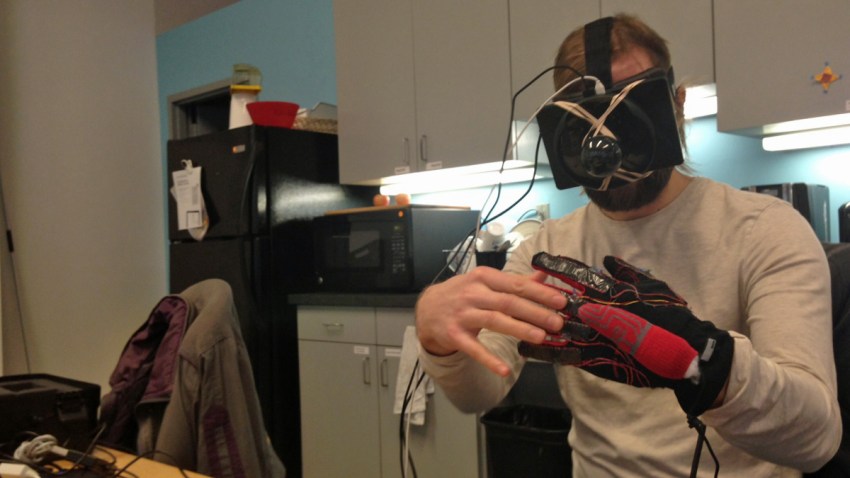 Navy blue bins are filled with computer cables and cooling fans, hard drives, rainbow-colored wires, cordless phones and old video game controllers. A clipboard asking, "What would YOU love to make or do?" hangs beside the door.
The Hacktory, a workshop within the Department of Making + Doing at 3711 Market St., is one of several tech-oriented collaborative spaces in Philadelphia.
Three other organizations, NextFab, Breadboard and Public Workshop, also inhabit the Market Street space. Each group encourages innovation through cross-disciplinary programming.
Local
Breaking news and the stories that matter to your neighborhood.
The Hacktory's name brings to mind computer nerds stealing confidential information through online networks, but Director Georgia Guthrie says the term "hack" has a much broader definition.
"We're trying to take back that word," Guthrie said. "The original definition of hacking was actually to come up with a unique solution to a problem. Sometimes it was messy or sloppy, but it worked."
Like Devnuts in Northern Liberties and Hive76 in Center City, The Hacktory is pushing people to develop innovative projects by repurposing discarded electronics and other materials.
"Our mission is to empower people to be creative with technology and to learn about technology by taking things apart and putting them back together in new ways," she said.
And now the nonprofit, founded in Nov. 2007, is gearing up for the next phase in its evolution: an artist residency program.
"We want to give them a chance to experiment with these materials because I think they are very likely to come up with something that no one else is thinking of," Guthrie said.
On Tuesday, a Kickstarter campaign--the proceeds of which will help fund the latest initiative--surpassed its $12,000 goal. The donations combined with other funds amount to about half the $40,000 The Hacktory needs to raise to receive a matching grant from the John S. and James L. Knight Foundation as part of the Knight Arts Challenge Philadelphia, Guthrie said.
Fundraising efforts will continue as the group begins to accept applications for the artist residency program.
Guthrie is still finalizing the finer details of the residency, but expects to select eight to 10 artists in early 2014.
The residents, who receive a dedicated studio space, will work with mentors to learn visual coding programs and are also expected to teach courses.
Currently, The Hacktory runs an after-school program at the Henry C. Lea elementary school at 4700 Locust St. As many as five classes a month are offered at the Department of Making + Doing that are open to the public, as well as a regular open workshop on Thursday evenings.
"You meet people who want to collaborate and ask questions and explore," said Sarah Zimmer, an artist who frequents the facility. "And it creates a positive environment to do that."
Zimmer and her creative partner, Kim Brickley, are putting the finishing touches on a video installation titled Proceed that will soon occupy a window at the Market Street facility. Four surveillance cameras will capture passersby who stop to interact with the project, she said. Their image will be cataloged online and used to create layered portraits, she said.
"How many of us log on to the internet and really think about who is monitoring us?" Zimmer asks. Details on how to find one's picture online will be posted alongside the screen.
Other work to come out of The Hacktory so far include a Lucid Dreaming Watch, which vibrates every 45 minutes and asks the wearer if they are dreaming or awake. Sarah Guck, who designed the watch with Paul Christian, says the alerts create a "reality check," making the person more cognizant of their current state.
"The idea was that if our brain got used to doing the reality check regularly throughout the day," Guck says, "It would continue to do it at night in our dreams."
Christian, a software engineer, also created a virtual reality glove as a solo project. Thin red wires are threaded through a black-and-red glove, which connects to a laptop and a headset. While wearing the glove, one can grab and manipulate shapes Christian created in 3-D virtual world.
Despite his knowledge, Christian was unfamiliar with the coding program that The Hacktory teaches.
"As an engineer you kind of get blind to a lot of the more artsy world programming environments," he said.
Guthrie says the residency program will give artists, who often can't afford The Hacktory's classes, a chance to learn the same programs.
"We don't want someone in our world to just add an extra bell or whistle," she said. "Think about what film did for photography...we are trying to encourage people to think about how you can transform a new medium in a new way."