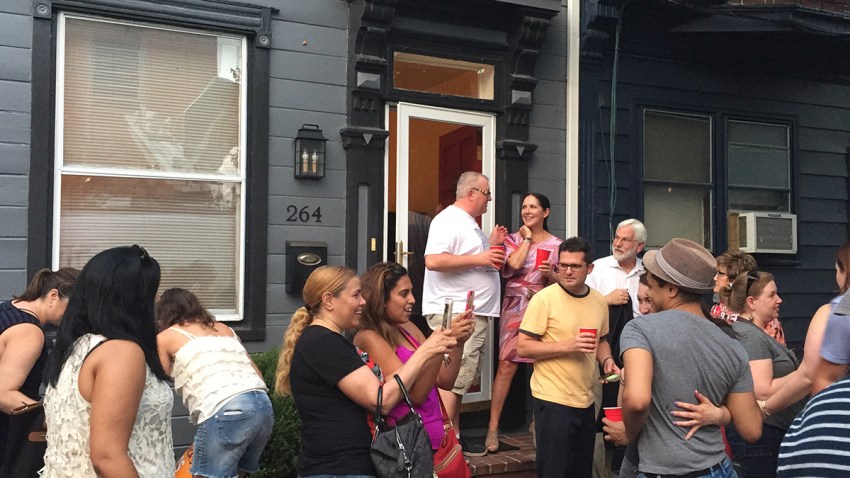 HARRISBURG -- Ann Knaus stood on the brick stoop of her Midtown Harrisburg rowhome Friday night, chatting with friends and sipping wine out of a red solo cup.
Dozens of people milled by, stepping through the fading shadows of satellite trucks parked in the middle of Verbeke Street.
One hundred yards away, the first woman nominated for president by a major political party will shortly step up to a podium and deliver a speech to thousands of excited supporters.
Local
Breaking news and the stories that matter to your neighborhood.
"It's amazing," the 50-year-old former political staffer said.
Ann's home is closest to the hottest ticket in the state's capital tonight and she and her husband, Kurt, have thrown a party to mark the occasion.
Really, it's not everyday that Hillary Clinton is standing on your block.
"It's just an honor to be a part of what's going down right now," said Ann, a registered Democrat.
But that doesn't mean she's 'with her.'
"Hillary hasn't convinced me yet," Ann said. She wrote in former New York City mayor Michael Bloomberg during the primary.
Creating jobs is most important to Ann. Her work contract recently ended leaving her unemployed.
"I want to see really good jobs for educated women like myself," she said.
Clinton's bus tour through Pennsylvania and Ohio this weekend is designed to highlight her jobs plan. Unveiled during the Democratic National Convention, Clinton vows to put people to work on infrastructure projects, promote green energy, cultivate high-tech manufacturing by providing $10 billion in incentives and support small businesses.
The party turned out bigger than expected, he said, with 40 people showing up. Many were Democrats, but a few Republicans stopped by to witness history.
Elaine Rubb said she cried this morning watching Clinton's acceptance speech. She changed plans to make sure she was at the Knaus' party.
"The next potential president of the United States? Who wouldn't come," she said.
"As a woman, it's exciting."
Kurt handed out Philly soft pretzels as guests drank beer and sat in plastic chairs on the sidewalk.
"I've been in the city 20 years and we've never had an event like this on our block," Kurt said.
Thousands packed the neighborhood to try and see Clinton speak around 8:30 Friday night. Many were disappointed as the cramped square where she delivered her remarks quickly filled. Some crained their necks and held children on their shoulders to catch a distant glimpse of Clinton.
Others gave up and went home before Clinton even took the podium complaining about the venue choice.
The Knaus' weren't upset about, the noise, traffic or disruption. "We're just drinking wine and having fun tonight," said Ann.
---
NBC10's Vince Lattanzio and David Chang are on the road with the Clinton-Kaine campaign as they tour Pennsylvania and Ohio by bus. Follow their travels on Facebook, Twitter, Instagram and NBC10.com to get dispatches from the trail and behind the scenes views of what it's like to cover a presidential campaign.