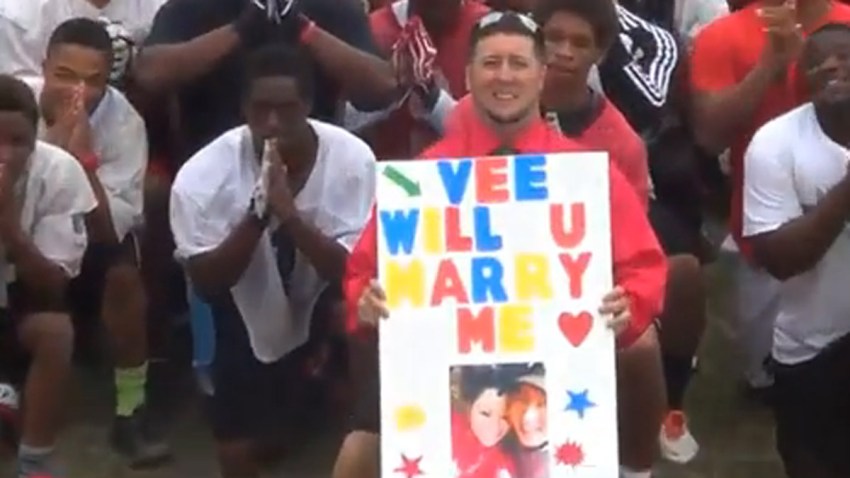 Players on the Westfield High School football team in Houston, Texas didn't know what to expect when their offensive coordinator, 30-year-old Justin Outten, held a team meeting last week.
"I started the meeting, saying I had been at the high school for 7 years and it was time for a change," said Outten.
Some of Outten's players broke down in tears, believing their beloved coach was about to leave. It turns out that Outten had different plans however.
Local
Breaking news and the stories that matter to your neighborhood.
"I need your help," Outten told his players. "I'm a little nervous right now but I want to propose to my girlfriend and I wanna make sure that you guys are involved."
Outten says the sorrow immediately turned to joy as the locker room erupted into cheers.
"It took a good five to ten minutes for them to settle down," Outten said. "As soon as they calmed down I went on the dry erase board and drew out a game plan for them."
Football has always been an important part of Outten's life. He grew up in Chalfont, Pennsylvania and played as a guard on the Central Bucks West High School team that went on a 59-game winning streak and won a state championship.
After graduating, he played for Syracuse University before working as the offensive line coordinator for Westfield High School's highly successful football team. Outten says his love and commitment for the game helped inspire his proposal to his girlfriend Vanessa.
"It just clicked in my head that I'm just so heavily involved," Outten said. "A lot of hours go into what I do and I love it. She's a big supporter for what I do. What better way to propose to her then to involve the kids that I work with every day and the sport I love?"
After going over the details, Outten and his players put the plan into action. The team staged a fake fight on the football field that was recorded on video. Outten says he then texted his girlfriend about the brawl.
"Right after we recorded it, I let her know that there was a big fight at practice and I got hit in the back of the head," Outten said. "It was a big situation and she was very concerned."
Outten says he continued to tell his girlfriend about how serious the fight was over the next two days.
"I kept saying it was a big deal and there were a lot of things going on with it," Outten said. "I kept building it up."
On Saturday, Outten finally showed the full video to his girlfriend. Of course, he didn't tell her about what happened at the end of the clip.
After the fake fight, the team gathered in the middle of the field and started to celebrate. All of his players then got down on one knee, with Outten in the front. He then held up a sign with a picture of him and Vanessa with the words "Vee, Will You Marry Me?"
As she watched the clip, Outten bent down on one knee, took out a ring and proposed to her. She said yes, making the most important game plan of Outten's life a huge success.
She said YES!!!! I'm so blessed! A big shout out to the players for helping out! pic.twitter.com/8KKylyAnLs — Justin Outten (@Outdog) April 5, 2014