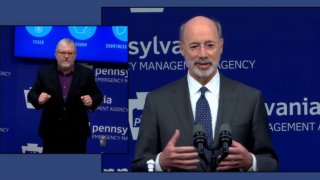 Pennsylvania is speeding up payments from its yearly property tax and rent relief program, so that people who qualify can get them soon.
The state's Property Tax/Rent Rebate Program usually begins to issue rebates July 1, but sent out 110,000 today.
In a news conference Tuesday morning, Gov. Tom Wolf and state Treasurer Joe Torsella said the state plans to issue 60,000 more payments each week through the program. The state has issued about 500,000 rebates in previous years.
Those will be on a first-come, first-served basis.
"To some of our most vulnerable Pennsylvanians, we hear you, we understand what you're going through, we're doing everything in our power to help," Torsella said.
The program serves older homeowners, renters and people with disabilities. Depending on your income, you could qualify for as much as $650, or $975 under certain conditions. To apply, or see if you're eligible, click here.
Torsella said the rebate program is the state's biggest check-printing job of the whole year, sending out $50 million on Tuesday and about $30 million per week for other applicants.
Local
Breaking news and the stories that matter to your neighborhood.
"None of us can make this pandemic end on our own, but all of us can if we work together," Torsella said.