In an overwhelming show of solidarity, thousands upon thousands of people of different races, ages, religions and sexual orientations descended on Philadelphia Saturday, creating a sea of bodies as they marched against racism and police violence.
Shortly after noon, the protesters filled the Benjamin Franklin Parkway from the Philadelphia Museum of Art toward City Hall, packed tightly as they walked along the roughly ¾-mile stretch. Police estimated the crowd size at 8,500 people.
They held up signs and chanted in support of the Black Lives Matter movement. It marked the eighth consecutive day in which Philadelphians held widespread demonstrations following the death of George Floyd.
"Equality – we want to be treated fair. Our lives matter. We want the same jobs that's offered to them. We want to be able to walk down the street and not feel like we're being watched. We just want our freedom," Ashley Harris said as she marched.
All day, soldiers and cops heard chants of, "Why are you in riot gear? I don't see a riot here."
City officials including Mayor Jim Kenney and Police Commissioner Danielle Outlaw have said the National Guard's presence was necessary to help officers combat looting that followed the first round of protests Saturday. But the day was peaceful, and the lingering crowd confronting the Guard after curfew dispersed around 10 p.m.
The names of a few who died at the hands of police officers were written in chalk on the asphalt of 15th Street – Floyd's name was seen, along with Breonna Taylor and Freddie Gray.
Local
Breaking news and the stories that matter to your neighborhood.
Felicia Taylor made the trek from Phoenixville to Philadelphia with her young son and daughter.
"As a black woman, I want change. I talk to my mom every day and she's like, 'That could've been your brother.' She keeps saying that could've been my son," Taylor said.
Her son held aloft a large sign that read, "Treat People Fairly." Her daughter held a small plastic container to collect donations in support of the Black Lives Matter movement.
"It's gonna be hard right now, but I think in the end it will create change," Taylor said.
Kenney and Outlaw were out on the streets Saturday as thousands of demonstrators moved through the city. The mayor took a knee with protesters after speaking into a megaphone.
He mentioned a renewed effort to root out problem cops. Just a day earlier, assault charges were filed against a police inspector seen on video beating a Temple student with a baton.
"Cops are not the be-all solution for every issue out in the world," Adric Garlick said as he held a sign calling for the defunding of the police. "All they know is violence, so they can only respond with violence, and it needs to stop."
"Some of the images are disturbing and depict behavior that does not appear to be in accord with our policies," Outlaw said earlier in the week in regard to videos showing police use of force. "I am deeply concerned about this and, as a result, I have initiated several concurrent internal affairs investigations."
Despite fears over potentially explosive tanks of oxygen and acetylene being stolen from a commercial property earlier in the week, no major incidents were reported Saturday.
Instead, the day felt like a celebration to many.
Outside the Logan Hotel, crowds cheered on Dr. Kerry-Anne Perkins and Michael Gordon, clad in their respective wedding dress and tuxedo. The newlyweds kissed and then joined the protests, according to TODAY.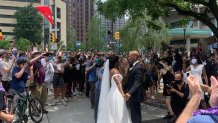 The protests continued throughout the day until most people returned home when the curfew set in. Others, though, remained on the streets for a little while longer, taking in a historic day in the city of Philadelphia.