A puppy was safely returned after being stolen from the Pennsylvania SPCA's headquarters in Philadelphia on Sunday, officials say.
Investigators say an unidentified woman was inside the PSPCA headquarters on 350 East Erie Avenue around 2:20 p.m. Sunday when she stole a small, white terrier mix out of a kennel and placed the puppy in her purse. She then exited the building.
The stolen puppy had been adopted by a family and had remained in the shelter for her spay surgery which was scheduled for Monday.
The PSPCA released surveillance video and photos of the woman accused of stealing the puppy as well as a second woman who was with her.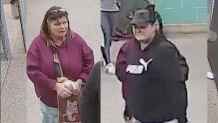 Sunday evening, the PSPCA announced the stolen puppy was turned into the Philadelphia Police Department. Police then brought the puppy back to the PSPCA.
A spokesperson for the PSPCA said police are still searching for the woman accused of stealing the puppy. If you have any information on her identity or whereabouts, please call 911.