The truck police believe was used in a deadly hit-and-run in Bucks County on Monday has been recovered and police say a person of interest has been identified.
A 19-year-old woman died Tuesday after she and her boyfriend were struck the previous night by a pickup truck while crossing a road in Bucks County.
The driver got out to help the boyfriend move the woman to the side of the road before fleeing the scene, police said.
Jess Kurtz and Will Vanarsdale, both recent Bensalem High School graduates, were crossing Street Road at Philmont Avenue in Trevose about 8:15 p.m. Monday when they were hit.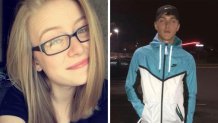 Police recovered the 1990s Ford pickup truck and processed it for evidence on Thursday, police said.
The driver apparently stopped briefly at the scene to help move one victim to the side of the road but then drove off.
Kurtz and Vanarsdale, 18, were both taken to a nearby hospital. Kurtz died sometime Tuesday.
The driver appeared to be around 30 years old, standing a little more than 6-feet tall, with a thin build. He wore a blue baseball cap, possibly with a New York Knicks logo, black shirt and dark jeans.
While police said they did have a person of interest in the case, no arrests had been made.
Anyone with information is asked to contact Lower Southampton Township Police at 215-357-1234.
Copyright AP - Associated Press