A man accused of slashing the tires of several police and fire vehicles in Somerdale, New Jersey early Sunday morning is now in custody.

Edward J. Holmes III, 51, of Somerdale, was arrested and charged with criminal mischief, possession of a weapon for an unlawful purpose, criminal trespass and other related offenses.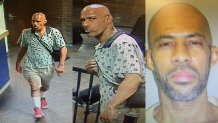 Investigators say Holmes walked into the municipal parking lot of the Somerdale Police Headquarters Sunday shortly before 1:30 a.m. and slashed all four tires on nine marked police vehicles, one marked fire vehicle and three personal vehicles belonging to officers. In all, 52 tires were slashed.
Holmes allegedly returned to the parking lot around 4:30 a.m. Sunday and was caught on video hiding between cars at a house located across the street from police headquarters.
Investigators also say Holmes went to the Camden Metro Police Department Saturday around 11:30 p.m. to report that his bicycle was stolen. Camden Metro Police then reached out to Somerdale Police when they recognized Holmes as the suspect in the vandalism, officials said.
Camden Metro Police received an anonymous tip around 5:50 p.m. Tuesday reporting Holmes was at the Cathedral Kitchen, a center that serves nutritious meals for the needy, on federal street in Camden. Police arrested Holmes at the location without incident.
Local
Breaking news and the stories that matter to your neighborhood.
He was taken to Somerdale Police headquarters where he is currently being processed. He will then be taken to the Camden County Correctional Facility.