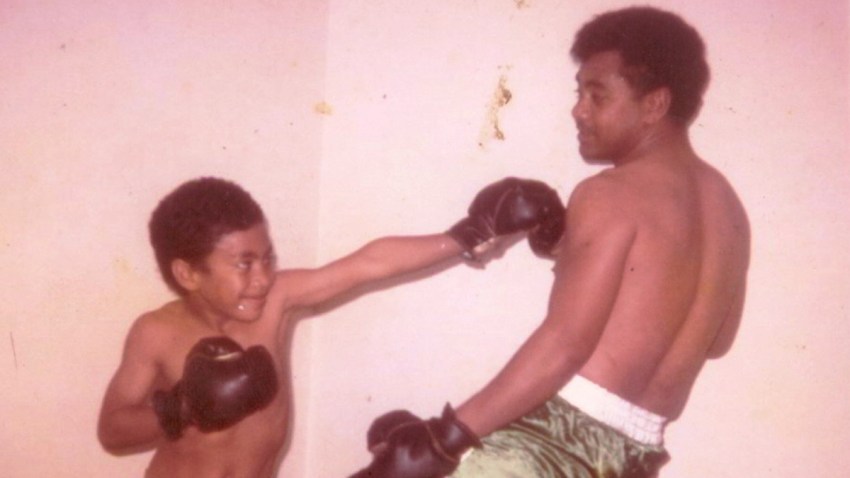 I never met Muhammad Ali.
No personal connections to him.
But I've been in his presence. And his presence has been a part of my life as far back as I can remember. I was once as close as a few rows from ringside to him. And at the first Olympics I covered for NBC10 was Atlanta, Ali was there. Boy, was he there.
Local
Breaking news and the stories that matter to your neighborhood.
I didn't know he'd light the cauldron, but I slipped into the stadium that evening with my buddy, Fred Kalil, a close friend and fellow sports anchor at the NBC affiliate in Atlanta who had gotten me a ticket.
We stood mesmerized as swimming champion Janet Evans passed the flame to Ali, who emerged out of nowhere, like the magic tricks he loved to perform.
Initially, it was difficult to see it was him because of the flash of light bulbs from thousands of cameras -- before camera-phones.
It wasn't until I turned to the JumboTron that I realized it was Ali. The rest is a matter of Olympics history.
Later in the Summer Games, I was at the gold medal fight of Philly boxer David Reid, the super-middle weight who was a huge underdog to the Cuban Alfredo Duvergel.
Trailing badly in the fight, Reid threw a one-punch haymaker that knocked out Duvergel before he ever hit the canvas in the third and final round.
Just before the fight started, as Reid and Duvergel were still in their dressing rooms, a sudden hush fell over the arena. The entire place, maybe 20,000 people, instantly rose to their feet. I'd seen millions of people over my lifetime rise to their feet in stadiums and arenas, but it was always accompanied with raucous cheers.
This was eerie. The arena was deathly quiet. It's cliché, but you could hear a pin drop.
Then, from behind a portal, Ali appeared, on one arm his wife Lonnie and on the other Howard Bingham, his close friend and photographer. He shuffled in slowly as we stood motionless, barely breathing. Attendants at his side cleared a path and he took a seat at ringside. Once seated, the entire crowd silently sat, without direction from the public address announcer – mindful, this was an international audience, some from places I'd never heard of.
At the conclusion of the fight, I saw Ali and his entourage behind a cordoned-off area waiting on Reid to finish his press conference. When the jubilant Reid approached the legendary champ, Ali put his enormous hands around Reid's neck and pulling him closer, kissed both cheeks and whispered something in Reid's ear that made the young gold medalist laugh. I waited until Reid showered and dressed. I walked with him and his trainer Al Mitchell to a waiting car, I asked him what Ali said that made him laugh.
"I can't tell you on camera," Reid said. So the camera came down.
"He told me, 'You a baaaaaad N-word.'"
Parkinson's didn't impact Ali's irreverence or political in-correctness.
My first conscious memory of Ali was as a five-year old living in Tonga. My parents were dorm parents at a Mormon-owned boarding school, which gave us a small room in the boys' wing. My dad also worked as a janitor on the custodial staff. On Saturdays, Dad took me on his rounds and often, left me in the library with a stack of American magazines – Sports Illustrated, Time, Reader's Digest.
When Dad saw that I was fascinated with the Life Magazine cover of the big man standing bare chested over his fallen opponent, he stopped everything to explain to me that this man's Cassius Clay. He had beaten the heavyweight champion, Sonny Liston, and in doing so earned $100,000. The real-world amount couldn't have meant anymore to me than my Dad. But even at five, I understood the concept.
Dad had been a star rugby player in high school but was expelled from two public schools for fighting before landing at the Mormon private school as a last resort. He met my mother at Liahona High School and also an American teacher named Chuck Woodworth, who had boxed professionally to pay his way through Brigham Young University in Provo, Utah. Mr. Woodworth taught Dad both how to box and a new faith. However, marriage and raising a family got in the way of any chance Dad would have of fulfill his dreams of being a professional boxer.
So in the school library that Saturday morning, with Life Magazine spread before us, my father articulated his hopes and dreams of immigrating to America. Dad observed that America was in the midst of a cultural revolution -- politically, socially and racially. He didn't think that people of color could actualize their education because of the racial tension. But a young, handsome, uneducated black man from Louisville, Kentucky, lived like the upper-crust of American society simply because he could fight.
"Son," Dad told me as he pointed to a photo of Clay sitting behind the wheel of a convertible Cadillac with a friend in the passenger seat in the same issue, "This is how we will make it in America. We fight."
Four years later, we settled in Mesa, Arizona, because Chuck and Marcia Woodworth had returned from their teaching assignment in Tonga and were living in nearby Tempe. Chuck would help Dad train me.
From age eight to 14, we traveled all over the Southwest in a pickup truck, from grungy gym to grungy gym, fighting in Golden Gloves tournaments.
Always, Ali was the inspiration.
In the summer of 1975, Ali came to Phoenix to train for a few weeks for his third and final fight with Smokin' Joe Frazier, The Thrilla in Manila.
Ali came to Phoenix to simulate the heat he'd face in early morning hours when he'd face Frazier to accommodate viewing audiences around the world. We drove to the small gym in Phoenix a few times and sat in the bleacher seating the gym had brought in from a nearby Little League field. Ali was tall, well-built and yet big as he was, his feet and hands were as quick as a featherweight.
His cheerleader, Bundini Brown, was always ringside, sweating profusely and yelling familiar refrains like "Float like a butterfly, sting like a bee… Rumble young man rumble!" Or some that were unfamiliar like, "From the root to the fruit… you da truth, champ! Ain't NOBODY betta!!"
Sometimes what he yelled was profane. And other times, it sounded like gibberish. But it all seemed to make sense to Ali, whose mouth moved as much as his hands and feet. Having boxed and played professional football, I can tell you that the first sign of fatigue is silence. It takes enormous physical stamina to train and trash talk. As you tire, you instinctively conserve air by shutting your trap.
I was amazed at Ali's fitness that he could, jump rope, shadow box, hit the heavy bag and pump jabs into his sparring partners' faces for hours -- and talk trash the entire time.
We never approached Ali, though he seemed approachable. He often invited it. We just never did. My dad revered Ali and approaching him for an autograph or to chat seemed too common. Ali was regal, in stature and manner. He was almost god-like.
Ali talked to the audience and sometimes kept a running dialogue with some while he trained, a few were members of the media whom he openly taunted. But he especially enjoyed interplay with kids – all while he was trading punches with big heavyweights, who looked menacing.
"Where you from, son?" he asked a kid at ringside. Bam. Bam. Bam.
"Glendale."
"Glendale?" Bam. Bam. Bam.
"Yes, sir, Champ."
"'Ain't nothin' good EVER come out of Glendale." Bam. Bam. Bam.
Eruption of laughter from the audience.
Rudyard Kipling may have described Ali best when he penned, "If you can walk with the crowd and keep your virtue, or walk with Kings – nor lose the common touch; If neither foes nor loving friends can hurt you; If all men count with you, but none too much… Yours is the earth and everything that's in it.."
RIP Champ.