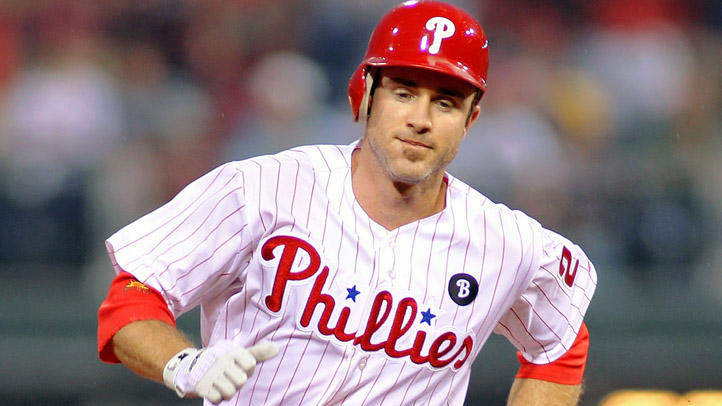 Long-story-short: Chase Utley has two bad knees, he's getting treatment, he will miss the beginning of the season, and he's definitely not retiring.

Short-Story-Long: When Chase Utley returned to Phillies camp on Friday morning following his trip to see a specialist about his ailing knees, it was announced that he would be speaking to reporters on Sunday afternoon, ostensibly to discuss the details of his injury, as well as his plans for the future.

Predictably, the announcement-of-the-announcement led to much consternation among Phillies fans, who predicted that Utley would, at best, need season-ending surgery, or that he would retire, at worst. And given the way this spring has been going, neither one of those predictions would have been too outlandish.

However, neither (thankfully) proved to be true, as Utley's update did little more than tell us what we already knew: He has an condition in both knees, and that he is doing what he can to get back on the field and contribute in 2012.

The update wasn't televised, but some Phillies beat writers provided the play-by-play on Twitter, and relayed the juicy bits. To sum up:
Utley will not be ready for Opening Day (as expected), but he fully expects to be back on the field this season. However, there is no timetable.

His right knee, which was an issue last season, does not appear to be an issue, as the problem is now with his left knee.

He feels as if he is progressing with his new stretches and exercises, after having seen a specialist in Arizona.

The recovery process is slow.

Surgery is not an option.

Neither is retirement.
All in all, we really don't know any more now than we did last week, except for the part where Utley is experiencing pain in his left knee. It seems to pretty closely mirror what happened last season, which would probably be the best-case scenario for Utley and the Phillies, because it would mean he would be back before the All-Star break.

Of course, the longer Utley sits out and rehabs his knee, the more he should be able to contribute in the second half. I blogged about this earlier, but Utley appeared to wear down late in the season in 2011, which may have been a direct result of him returning in May.

Either way, Utley remains in one piece (for now), and we should expect him to be back on the field sometime in 2012. Only time will tell exactly when.

Special thanks to the Phillies beat writers who covered the informal presser and took to Twitter with the news: Todd Zolecki, Matt Gelb, David Hale, and Ryan Lawrence.