What to Know
This nor'easter will hit in two parts and the second part — coming Wednesday — will be the most severe.
Travel on Wednesday will be treacherous. Mass cancellations for air, transit, and rail travel are expected.
Power outages are likely as high winds coupled with heavy, wet snow will weigh down power lines and trees.
Update: The storm is expected to move out early Thursday. New details here.

The fourth nor'easter of the month dumped more than a foot of snow on parts of the region and continues to pummel our area.

Neighborhoods were slammed with wet snow, high winds and coastal flooding. Snow will continue to fall in parts of the region until it completely moves out between midnight and 3 a.m. in the Philadelphia area and between 3 a.m. and 6 a.m. in South Jersey.

The storm made travel treacherous for anyone who ventured onto roadways Wednesday. By 10 a.m., poor conditions had already led to a tractor-trailer crash on the Pennsylvania Turnpike and a police-involved crash on I-95 in Philadelphia.
Most malls, schools and offices throughout the region were closed for most of the day.
So far the storm has dumped up to 8 inches of snow in Philadelphia and more than 15 inches in Macungie, Lehigh County. Check here for snow totals across the area.

The storm also caused thousands of power outages, mostly in South Jersey.

Mass cancellations were reported for air, rail, and transit travel. More than 250 American Airlines flights, and 600 flights overall, heading to and leaving from Philadelphia International Airport were canceled Wednesday.
Track the storm with the NBC10 First Alert Weather Live Interactive Radar
A First Alert went into effect noon Tuesday and lasted until late Wednesday night. The National Weather Service issued a Winter Storm Warning lasting from Tuesday night through early Thursday.
Local
Breaking news and the stories that matter to your neighborhood.
Numerous towns and cities declared snow emergencies in preparation of the storm. The entire State of New Jersey is also under a state of emergency.
This nor'easter — the fourth this month and the one that arrived on the first day of spring — struck in two parts.

The first wave of the nor'easter doused the region Tuesday morning with a wintry mix of sleet and rain. There was a lull late Tuesday night. But the storm slowly ramped up around midday Wednesday as the nor'easter intensified off-shore.

Colder temperatures, coupled with heavy snow bands, allowed the snow to accumulate on roads and sidewalks.

The Pennsylvania Turnpike Commission banned motorcycles, empty straight CDL-weighted trucks, double trailers, tractors hauling empty trailers, and any trailers pulled by motorcycles, passenger vehicles, pickup trucks or sport utility vehicles starting at 8 p.m. Tuesday.

Schools in the Philadelphia suburbs dismissed early Tuesday and schools in both the Philadelphia Archdiocese and Philadelphia School District were closed Wednesday. They will open on a two-hour delay Thursday. Sign up for free school closing alerts here.

The storm dumped more than 15 inches of snow in Macungie, Lehigh Valley. Check the snow totals across the area here.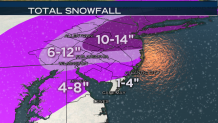 The snow has been heavy and wet. Sleet compacted the snow, making it strenuous to shovel. Those with heart conditions or back troubles should avoid shoveling.

Besides the heavy, wet snow, winds also gusted between 30 and 40 mph. Gusts at the shore could be around 50 mph.

Coastal flooding was also a big concern, and is forecasted to be the worst of the past four storms. Swells will top out at 12 feet, and flooding occurred at high tide around noon Wednesday. The next high tide for locations along the southern Jersey Shore occurred around 11 p.m.