A father of four was killed in a possible road rage shooting in Delaware County Friday morning.
Police officers found the 56-year-old man slumped behind the wheel of his truck along Lansdowne Avenue in Upper Darby around 8 a.m., law enforcement sources told NBC10's Deanna Durante. He had been shot in the side of his head and was later pronounced dead.
Family members identified the deceased as Jim Hunt, who lived in Havertown. Police said he had a wife and four children.
Police traced the driver's movements back along Lansdowne Avenue to the 600 block near Upper Darby High School. Investigators believe there was some sort of traffic incident that occurred at the location that escalated into gunfire.
Police later released a photo of a "vehicle of interest" in the shooting, a white 4-door Audi A3 or A4.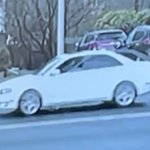 Friday night, a law enforcement source confirmed with NBC10 that Lloyd Amarsingh, 28, of Darby, was arrested in relation to the shooting.