Can you remember the last snowfall on Christmas day in Philadelphia?
We had a Trace of snowfall seven years ago in 2010, but since then no snow on December 25th. The last "White Christmas" in Philadelphia was 2009. That year there was 8" of snow remaining on the ground from a 23.2" snowstorm a week earlier.
Historically, the odds of snow falling on Christmas day itself in Philadelphia are somewhere between 7%-10%. However, the odds of snow falling between December 24th and 26th increase to 20% and a "White Christmas" is far more likely in any year if we get a pre-Christmas December snowstorm like the 12.7" of snow that fell on Christmas Eve 1966 or the 23.2" of snow that fell on December 19-20, 2009.
Over the 129 years between 1888 and 2016 there have been 101 years in Philadelphia with no snowfall on Christmas day
17 years with a "Trace" of snowfall
6 years with "Measurable" snowfall less than 1"
5 years of "Measurable" snowfall of 1" or more
That's right, just 5 of the past 129 years in Philadelphia had 1" or more of snowfall on Christmas day.
1888-2016 Christmas Day Snowfall of 1" or More
Local
Breaking news and the stories that matter to your neighborhood.
1904 3.3" snowfall
1909 5.5" snowfall
1962 1.5" snowfall
1969 4.1" snowfall
2002 1.1" snowfall
The lack of Christmas snow can't be blamed on warm temperatures. For 21 of the 129 Christmas days our high temperature was at or below freezing and on 83 of those Christmas days the low temperature was at or below freezing. Even on the record cold Christmas day of 1983 when the high was 10 degrees F and the low was only 1 degree, there was no snow.
This year we may have a better chance for snow on Christmas day or a "White Christmas" due to a possible mid-December cold snap. As of late November the global weather patterns are signalling a much colder period for the central and eastern United States between the 8th and 22nd of this month and a more active winter storm track between the 11th and 26th. Fingers crossed this combination will equal some much overdue snow for Christmas.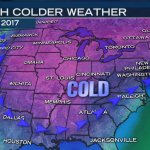 Some of the atmospheric signals of a possible cold snap include the Arctic Oscillation (AO) which is currently in a negative phase and can lead to weakening winds in the Arctic Circle allowing colder air to dip south into the U.S. The North Atlantic Oscillation (NAO) negative phase which leads to a weaker pressure gradient over the North Atlantic and a cold air build-up over Canada and the eastern U.S. The Pacific North American Pattern (PNA) positive phase leading to a large northward buckle in the jet stream over the western U.S. with warmer temperatures there and colder air over the eastern U.S.
Holly, Not-So-Jolly, Christmas Fails: Scary Santas